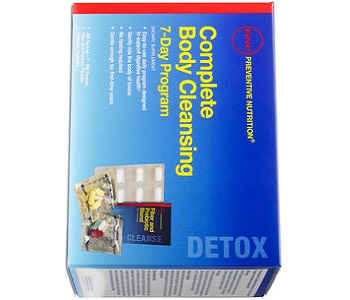 User Ratings (

0

Votes)

0
Today we review Complete Body Cleansing Program by GNC Preventive Nutrition. It is easy to feel good about yourself if you are healthy and at your ideal weight. The Complete Body Cleansing Program claims that it can kick-start a healthier you by starting your weight loss journey the right way. This detox program helps you to eliminate toxins from your body whilst promoting intestinal health. This product is also rich in antioxidants that support healthy liver function and it is full of fibre ensuring a healthy metabolism. If this product sounds like something you would want to try, read our review below for more information.
Ingredients
The main ingredients in this product include ginger, artichoke, pomegranate, cayenne, goldenseal, milk thistle, grape seed extract, probiotics, Acidophilus, Bifidobacterium and fibre. The ginger, artichoke and pomegranate are responsible for promoting intestinal health and providing important digestive enzymes. Cayenne, goldenseal, milk thistle and grape seed extract provide antioxidants and also provide digestive enzymes that aid digestion. The probiotics, Acidophilus and Bifidobacterium balance the intestinal flora of the digestive system and they also support the immune system.  Fibre aids the digestive process and helps to prevent constipation.
Dosage
It is recommended that you take the AM Packet first thing in the morning for seven days. The Fibre and Prebiotic Blend can be mixed with 4-6 ounces of cold water and you can drink it with your breakfast. The Probiotic-Acidophilus supplement can be taken daily. You can take one supplement at dinner time for seven days. The PM Packet can be taken with the evening meal every day for seven days.
Possible Side Effects
The ingredients of this product do not contain artificial flavours and ingredients. This product also does not contain soy, dairy, wheat, gluten or yeast but there might still be food allergens present in this product. It is also not advised to stop using this product two weeks prior to surgery. You should stick to the timeframe recommended for each ingredient to prevent an accidental overdose. It is not clear if this product is suitable for pregnant or nursing women.
Price
You can buy this product directly from the manufacturer's website for $28.99 per package.  All orders that are $49 or more qualify for free shipping. You can also choose to auto-deliver this product to your house every month which qualifies you to get 10% off your order total and gives you free shipping on your future orders.
Guarantee & Feedback
The manufacturer of this product does provide a 30-day money back guarantee if you are not satisfied with your product. The returned product can be used or unused and you will not be reimbursed for shipping or handling expenses when returning the product. The feedback regarding this product has not been overwhelmingly positive. Over 31% of reviewers on Amazon gave this product a 2-star rating or lower, citing that there is no decline in their weight since using the product.
Our Conclusive Review About GNC Preventive Nutrition Complete Body Cleansing Program
We appreciate the vast list of ingredients used in this product that has been proven to aid digestive health. We also like that this product has a 30-day guarantee if it has not been satisfactory. However, we are concerned about the multiple reviews stating that this product was unable to aid the reviewer in losing weight.  We also feel that this product is not competitive enough with current similar products on the market when it comes to its price.
Bringing you top reviews and product analysis - Consumer Advisors.