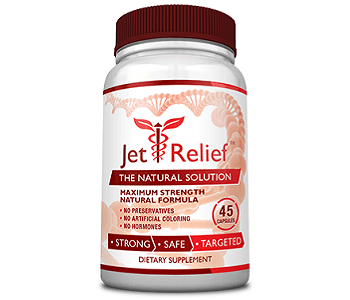 User Ratings (

0

Votes)

0
This is an in-depth product review for JetRelief, a natural supplement that counteracts the effects of jet lag. This is one of the most effective treatments for overcoming jet lag currently available. It uses all natural ingredients to reset the body wake and sleep cycle, relieve stress, improve focus, and increase energy in a productive way. It also speeds up recovery time, so it is easier to return to a normal schedule after a long flight. Read on to find out more information about JetRelief, and the pros and cons of taking it.
Ingredients
Each ingredient in JetRelief is lab tested for effectiveness in reducing the symptoms of jet lag. The major ingredients in JetRelief include:
L-ornithine, which reduces stress and promotes consistent sleep patterns
L-theanine, for increasing focus and reducing anxiety
Magnesium, to combat muscular fatigue and promote a healthy heart and nervous system
Calcium, for more efficient cellular functioning
GABA, for a consistently calmer mood
Chamomile, to calm the muscular system, reduce anxiety, and increase sleep quantity
Dosage
For maximum effectiveness, two capsules of JetRelief should be taken a half hour before take off, and another two should be taken after arrival. These should be taken at least four hours apart. To continue to reduce the effects of jet lag after your trip, you should take one pill daily until the symptoms subside.
Possible Side Effects
Because JetRelief uses natural ingredients that have been extensively tested, there are currently no known side effects. However, it is very important to follow dosage instructions when taking JetRelief. It is also important to ensure that the bottle is stored with the cap tightly closed, at room temperature, and is kept completely dry. Consult with your doctor before taking if you have another condition that you suspect may be adversely affected by taking an anti- jet lag supplement.
Price
The retail price for a single bottle of JetRelief (which contains a total of sixty capsules) is $69.95. There are several deals and packages available online that you can take advantage of, especially if you are a frequent traveler. Currently on the JetRelief website, one bottle is on sale for a 28 percent discount at $49.95, and there are also several packages available. The best deal is buy three, get three free, for $139.80. There are also other quantities available to suit the needs of different consumers.
Guarantee
JetRelief offers a sixty day guarantee of full money back if there is any dissatisfaction with the product. This is a very good guarantee, as it gives the customer time to try the product, and reduces the worry that may be involved with making a significant purchase. JetRelief also receives good reviews from consumers, who praise it's lack of side effects and fast acting natural ingredients.
Conclusion Of Our Consumer Health JetRelief Review
Overall, JetRelief is a very good antidote to jet lag symptoms, especially compared to other jet lag treatments that are much more harsh. JetRelief especially stands out because it naturally restores the body back to it's natural Circadian rhythms as well as reducing stress and increasing focus and energy. It also provides a very high value for money with the online sales and money back guarantee.
Bringing you top reviews and product analysis - Consumer Advisors.