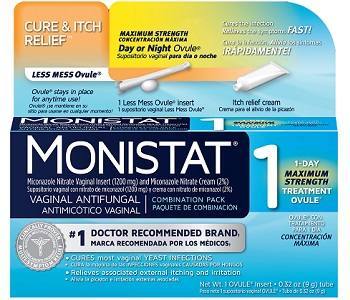 User Ratings (

0

Votes)

0
Vaginal yeast infections can be really nasty and painful to deal with. Symptoms of a vaginal yeast infection may include the following: Itching and irritation in the vagina and the tissues at the vaginal opening, discharge that resembles the consistency of cottage cheese, burning sensation, especially during intercourse or while urinating, and general vaginal pain and soreness. Taking a supplement can help to reduce the symptoms and may help your yeast infection disappear altogether. In this review, we will have a look at the effectiveness and safety of the ingredients of Monistat 1 Complete Therapy Vaginal Antifungal. Monistat 1 Combination Pack contains a 1-dose ovule insert that claims to cure most vaginal yeast infections and a cream you can apply externally that can be used for relief of itching and irritation on the skin outside the vagina (vulva) due to a yeast infection
Ingredients
The ingredients found in this product are water, propylene glycol, aloe barbadensis leaf juice, tocopheryl acetate, PEG-75 lanolin, disodium cocoamphodiacetate, polysorbate 20, fragrance, citric acid, disodium phosphate, disodium EDTA, 1-Bromo-2-Nitropropane-1, 3-diol, iodopropynyl butylcarbamate. These are not all-natural ingredients and may increase the risk of some side effects.
Dosage
For the vaginal insert: with the applicator, place the vaginal insert into the vagina. Throw applicator away after use. For the external cream: squeeze a small amount of cream onto your fingertip. Apply the cream onto the itchy, irritated skin outside the vagina (vulva). Use two times daily for up to 7 days as needed.
Possible Side Effects
As this product is meant to get rid of yeast infections within 24 hrs, it has a very strong and powerful formula. This may cause side effects such as burning, itching, redness, skin rash, swelling. Do not use this product before consulting with your doctor or healthcare provider.
Price
On Amazon, you can purchase this product for $17.82. Other third-party sites sell this product for $22.99. They do not sell directly from the Monistat website, you can only buy in brick and mortar stores or third-party online stores.
Guarantee & Feedback
We could not find any return or refund policies on the Monistat website. We also did not see any return policy on other third-party websites.
Our Conclusive Review About Monistat 1 Complete Therapy Vaginal Antifungal
If you were looking for a fast acting product that would get rid of your yeast infection symptoms without having to take multiple doses of medication, then the Monistat 1 is probably the most effective formula on the market. Their products have also been clinically tested and are recommended by doctors. That being said, after examining the ingredients, we are forced to conclude that the chemicals in this formula may cause dangerous and painful side effects. There is nothing natural about the product and using it to literally burn away a yeast infection may be effective in the short term, but it will probably not prevent yeast infections coming back. After reading many reviews about this product, we discovered that hundreds of women complained of severe burning and horrible pain after inserting the 1-day ovule into their vagina. Additionally, there is no return policy on this item. We recommend you try a gentler and more natural method for getting rid of yeast infections.
Bringing you top reviews and product analysis - Consumer Advisors.