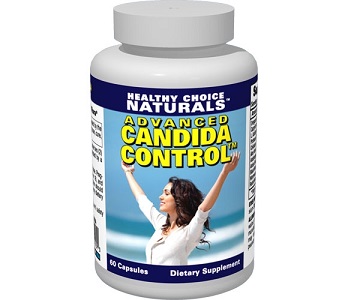 User Ratings (

0

Votes)

0
In this review of Healthy Choice Naturals Advanced Candida Control, we look into the capabilities of this dietary supplement as a prevention and treatment of Candida Overgrowth (also known as a yeast infection). The manufacturer claims that this formulation of natural ingredients encourages a balance of healthy bacteria as it fights the root of the problem from the inside out.
Ingredients
Aloe Vera Gel
Arabinogalactan
Anise Seed Black
Oregano Leaf Extract
L-Acidophilus
Walnut Hulls Powder
Wormwood Leaf Powder
Reishi Mushroom
Aloe Vera Gel is loaded with vitamins, minerals and amino acids have antibacterial properties. Arabinogalactan and Anise Seed Black promote digestion. Oregano Leaf Extract fights candida infestation. Caprylic Acid treats fungal and bacterial infections. L-Acidophilus a good bacteria adds flora and natural balance to the system. Walnut Hulls Powder combats yeast infection. Wormwood Leaf Powder acts against candida. Reishi Mushroom boosts the immune system.
Other Ingredients
Gelatin
Rice Powder
Vegetable Magnesium Stearate
Silicon Dioxide
Rice Powder and Silicon Dioxide are both fillers, and the presence of Gelatin enlightens us to the fact that this product is not suitable for vegetarians or vegans. Another thing we are taken aback by is the possible contaminant ingredient by the name of Magnesium Stearate.
Allergen warning is issued for those allergic to tree nuts, specifically black walnuts, as well as caprylic acid.
Dosage
The recommended dosage is two capsules daily with food or as instructed by a healthcare provider. The manufacturer warns against exceeding two capsules per day.
Possible Side Effects
Caprylic Acid is an ingredient which has been found to cause diarrhea, nausea and bloating when used as supplementation, and high amounts of it may lead to vomiting, constipation, stomach pain, low levels of calcium in the blood, growth problems and drowsiness. Caprylic Acid is especially dangerous for individuals which suffer from a condition known as medium-chain acyl-CoA dehydrogenase (MCAD) deficiency as it may increase the chance of comas.
Price
This product is available for $22 for a container of 60 capsules directly through the manufacturer's website, discounts are offered when buying in bulk.
Guarantee & Feedback
The manufacturer offers a refund which covers their customers for only 90 days from the date the product was bought, and this refund does not include shipping costs. The product may be returned opened and used. We wonder why the manufacturer does not strengthen their guarantee by extending it to 365 days which other leading brands offer. We appreciate that there are some good customer reviews which leads us to think that this product may be effectual.
Our Conclusive Review About Healthy Choice Naturals Advanced Candida Control
In this review of Healthy Choice Naturals Advanced Candida Control, we got to see how they have utilized natural ingredients to formulate a dietary supplement which addresses and protects against the cause of Candida Overgrowth. Although we have found positive aspects regarding the product, we have also found that there are negative aspects too. The fact that there are fillers added to the ingredients and the fact that they are encapsulated by a non-eco friendly capsule are off-putters. Furthermore, the manufacturer fails to mention any warning to individuals suffering from MCAD, which may be left vulnerable to comas should they ingest this caprylic-acid containing supplement.
Bringing you top reviews and product analysis - Consumer Advisors.