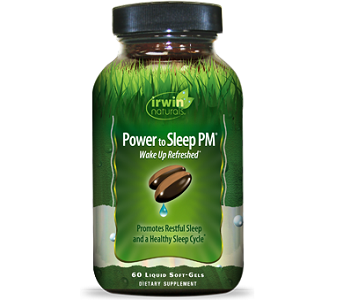 User Ratings (

0

Votes)

0
Many people have experienced the frustration of lying awake at night and just being unable to fall asleep. Some people experience this on a chronic basis and it can seriously impact their lives and health. Those who suffer from insomnia either have difficulty falling asleep or wake up constantly throughout their sleep cycles. For those who suffer from insomnia, there are products available which can be taken to reduce its onset. One such product is Irwin Naturals Power to Sleep, which aims to relax its user and generally provide more restful sleep.
Ingredients
Similar to other natural  sleep enhancing supplements, this one contains melatonin. Melatonin is a hormone which acts on brain cells and blood vessels in the brain to regulate the sleep-wake cycle. Increased levels of its stimulate the feeling of sleepiness. Irwin Naturals Power to Sleep formula also includes gamma-aminobutyric acid (GABA) and L-theanine which are amino acids that act on brain cells to stabilize moods, reduce anxiety and enhance sleep.
This supplement contains many plant extracts, including chamomile, lemon balm, passion flower,  Valerian root, hops and ashwagandha. Chamomile and lemon balm act as mild sedatives, while hops and passion flower have been scientifically verified as anti-anxiety supplements. Valerian root increases levels of GABA in the brain and ashwagandha is a traditional medicine which has been used to treat sleep disorders for many years. Flax seed oil is also present in this supplement. Non-scientific sources state that it increases levels of serotonin in the brains which could help users to fall asleep.
This product also contains the vital minerals calcium and magnesium, which are essential in normal brain cell function and relaxing the cells. Some insomnia result from dysfunction at a cellular level, so the presence of these minerals may restore cell function and reduce insomnia.
Dosage
Two softgel capsules can be taken 30 minutes before bedtime. The two capsules together contain 2 mg of melatonin, which is a significantly lower dosage than some similar supplements.
Possible Side Effects
This supplement should not be used while driving or operating heavy machinery. Pregnant or lactating women as well as anyone who is being treated for a long term medical condition should consult a physician before the use of this product.
Price
One package contains 60 capsules and can be purchased online for $20.99. Purchases over $50 (three or more packages) obtain a 10% discount.
Guarantee & Feedback
No guarantee could be found for this supplement. The manufacturer does not share any customer reviews, but there are reviews available on some of the platforms which sell Irwin Naturals Power to Sleep.
Our Conclusive Review About Irwin Naturals Power to Sleep
Irwin Naturals Power to Sleep contains many good ingredients and the supplement is offered at a price which is quite reasonable.
It is just slightly concerning to us that one ingredient is not scientifically supported and the supplement contains a low dose of melatonin relative to other similar products. The manufacturer's lack of guarantee and the fact that they do not directly share customer does cause us to question the level of confidence that the manufacturer has in their own product.
Bringing you top reviews and product analysis - Consumer Advisors.