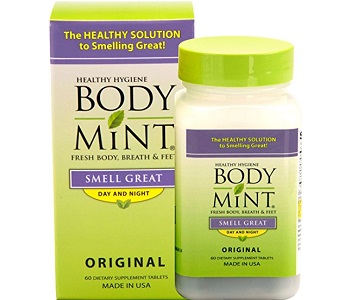 User Ratings (

0

Votes)

0
Maintaining proper hygiene and using deodorants or breath fresheners sometimes isn't enough to fend off body and breath odors. Most products target the external issues that cause these odors to occur but persistent bad breath, body and foot odor are oftentimes caused by issues from within the system. This review is going to examine Healthy Hygiene Body Mint. This product is an eternal deodorizer that combats odor-causing toxins at the source. The manufacturer claims that their tablets will naturally minimize everyday body odor, bad breath, and foot odor by targeting several sources of odor simultaneously. The manufacturer claims to achieve this through their key ingredient which is a derivative of chlorophyll. This product is aluminum free and contains no harsh chemicals.
Ingredients
Chlorophyllin (SCC) – 100 mg
Sodium – 6 mg
Copper – 4 mg
Inactive Ingredients: Dicalcium phosphate, cellulose, and plant-based stearic acid.
Chlorophyllin is believed to have properties that can assist in removing toxins from the bloodstream and digestive tract.
Dosage
Healthy Hygiene recommends taking one tablet twice daily.
Possible Side Effects
The manufacturer does not list any side effects from taking Body Mint on their website. We found common, mild side effects associated with taking Chlorophyll include diarrhea, digestive problems, and discolored stool.
If you are under medical supervision, pregnant or nursing, you should seek medical consultation before consuming this product.
Price
You can purchase this product on the manufacturer's website for $16.95 per 60 capsule bottle. If you choose the automatic monthly purchase option, the price is reduced to $15.95 per bottle.
Guarantee & Feedback
Healthy Hygiene offers a 30-day money back guarantee. They do not stipulate any terms and conditions. We advise calling their customer service to inquire about their up to date policy should you choose to move forward with Body Mint. The reviews we saw are mostly negative about this product. Consumers claimed that after taking these capsules over an extended amount of time they saw no difference in their body odor. Others claimed that it caused them to experience adverse side effects.
Our Conclusive Review About Healthy Hygiene Body Mint
This product appears to be a viable contender in the market of the countless deodorizers that are currently. It contains a derivative of chlorophyll that has been shown to cleanse the body of odor-causing toxins. The manufacturer's website has plenty of positive consumer reviews from satisfied users, however, when we researched this supplement we found many complaints from consumers who were dissatisfied with this deodorizer. They expressed that they did not experience any effect after taking these capsules continuously and some even reported that it had worsened the condition of their odors. Throughout our research of deodorizing products, we have seen several products that also contain chlorophyll as their active key ingredient but Body Mint's dosage is the smallest amount we have seen. The low chlorophyll dosage is consistent with the consumer complaints that claim that this product is weak and ineffective. Taking all of these factors into account and considering that there are many better options currently available, this is a product we are inclined to skip.
Bringing you top reviews and product analysis - Consumer Advisors.