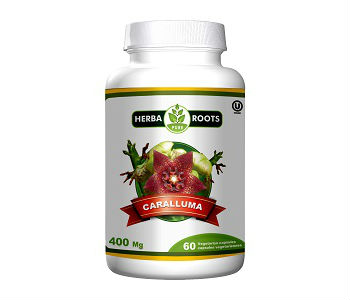 User Ratings (

0

Votes)

0
Have you been struggling to pick the right caralluma supplement? If you're trying to find the right product, you know how much choice there is on the market. Caralluma is an extract from the Caralluma fimbriata plant which contains phytochemicals known as pregnane glysoids. When you take these chemicals, they prevent your body from using an enzyme called citrate lyase. Blocking this enzyme keeps your body from producing fat. In addition to preventing you from producing fat, caralluma also helps to control your appetite, so you won't be snacking on so many fatty foods. Of course, since caralluma is a natural way to help you lose weight, many products have started using the extract as part of their weight-loss supplements. Let's take a look at Herba Roots Caralluma so that we can see how well this product works to help you lose weight.
Ingredients
Herba Roots Caralluma claims to contain pure caralluma, with none of the following ingredients added:
Sugar
Starch
Salt
Wheat
Yeast
Soy
Corn
Egg
Milk
Shellfish
Preservatives
It also comes in a vegetarian capsule, and has no fillers, binders, or artificial ingredients.
Dosage
The manufacturers of Herba Roots Caralluma recommend one capsule a day, or as recommended by a doctor.
The manufacturers don't list any health problems that this product might interact negatively with, but they do recommend consulting your doctor if you are nursing or pregnant, or if you are taking any other medications.
Price
Although the product is sold directly from the manufacturers for quality control purposes, the manufacturers list the price as $0. Unless they're giving away a free supplement (which would be pretty good, but I doubt that they're actually doing that), the probable reasons for this price are that the product is either sold out, or completely discontinued.
Guarantee
The makers of Herba Roots Caralluma do not offer a money-back guarantee. On one hand, this seems pretty bad, because if a company doesn't offer a guarantee, it can make you feel like they don't support their product, or they aren't willing to back it up with actual proof. On the other hand, since it doesn't even seem like you can buy this product anymore, you probably won't be spending money on it in the first place. However, if they do offer this product again, you cannot return it if you try it and don't see the results you want.
Conclusion Of Our Herba Roots Caralluma Review
Herba Roots Caralluma seems like a great product. It is nothing but pure caralluma, with no additives, artificial ingredients, allergens, or anything that would make this product unsuitable for any people (such as vegetarians). Additionally, one capsule a day is an easy to remember and not difficult to take dosage. However, it doesn't appear that you can buy this product anymore, and it doesn't matter how good a product is if you can't use it. If you want a similar product that is actually available, you could try something different.
Bringing you top reviews and product analysis - Consumer Advisors.