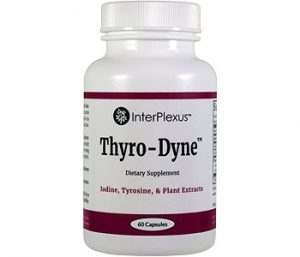 User Ratings (

0

Votes)

0
The thyroid is a small butterfly-shaped gland found in the neck. It produces hormones that travel to all parts of the body and help with different bodily functions. These hormones control the body's metabolism including how fast we burn calories and how fast our hearts beat. When the thyroid is not functioning as it should, too little or too much of these hormones are produced. Depending on how much or how little hormones are being produced, you may feel tired and restless or gain or lose weight. This review takes a look at the supplement Thyro-Dyne by InterPlexus. This product claims to contain the necessary ingredients to encourage the production of the T4 thyroid hormone. This hormone is then converted into the T3 hormone which is the active hormone. This product is designed to help manage fatigue, lack of concentration, weight gain, muscle cramps, and menstrual irregularities.
Ingredients
This supplement contains the main ingredients iodine, L-Tyrosine, and L-Cysteine. It also contains a proprietary blend of ashwagandha root and guggul gum. These ingredients are stated to jump start the circulation of the liver, kidneys, and spleen. The manufacturer specifically states that this product does not contain selenium to prevent overdose as a lot of other formulas provide enough selenium. We think this is taking for granted that an individual is actually taking other products.
Dosage
The manufacturer recommends taking two capsules a day with a meal. These capsules should be taken at the same time. You can also follow the recommended dosage from your doctor.
Possible Side Effects
This product is designed for adults only and should be kept away from children. Pregnant and nursing women need to consult a doctor before taking this supplement. Besides for these warnings, the manufacturer has not mentioned any possible side effects with taking Thyro-Dyne.
Price
This product is available online from different retailers. We found the price online from one retailer at $33.95 for a bottle containing 60 capsules. There do not appear to be options to buy this product in bulk.
Guarantee & Feedback
We could not find a manufacturer's guarantee for this product which is disappointing. As the product is sold through various retailers, it is important to pay attention to the refund policy of the store where you are purchasing the product.
We only managed to find seven user reviews for this product on Amazon, which were all positive. But we can't base the effectiveness of this supplement on such a small group of people. The lack of reviews may indicate that this is not a very widely used supplement.
Our Conclusive Review About InterPlexus Thyro-Dyne
This product seems to contain decent ingredients for supporting thyroid health, however, it is lacking a few that other products offer, including selenium. The lack of reviews and lack of a manufacturer's guarantee also make us question the effectiveness of this supplement. We think there are better alternatives on the market.
Bringing you top reviews and product analysis - Consumer Advisors.