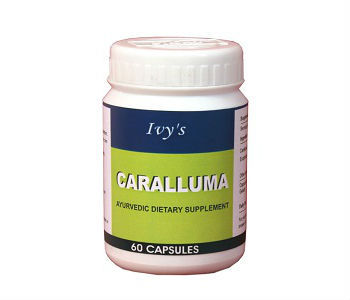 User Ratings (

0

Votes)

0
Introduction
Losing weight can be a difficult task. If you've struggled with the endlessness of diets, exercise, and supplements, you know how frustrating it can be. You try and try, and still sometimes you don't see the results you're looking for. The amount of supplements on the market can be overwhelming as well, and sometimes you want to know whether what you're about to spend money on will give you the weight loss you want. Recently, you may have heard of a specific weight-loss supplement called caralluma. Caralluma is the extract of the Caralluma fimbriata plant, which contains phytochemicals known as pregnane glycosides, which can block fat production and suppress your appetite, making you eat less when you aren't actually hungry. Many products have started taking advantage of caralluma, which means that it's hard to tell which products are worth your money. Let's take a look at Ivy's Caralluma Capsules so that you can tell if this treatment will give you results.
Ingredients
Ivy's Caralluma Capsules contains only 100% pure caralluma fimbriata, without any of the following ingredients:
Sugar
Starch
Salt
Wheat
Yeast
Soy
Corn
Egg
Milk
Shellfish
Meat
Preservatives
The capsule itself is also vegetarian, and contains no artificial binders or fillers.
Dosage
The manufacturers of Ivy's Caralluma Capsules suggest that you take two or three capsules a day with water, and about an hour before mealtime.
The makers do not list any side effects or health concerns associated with taking this product, but if you are pregnant, nursing, or on any other medications, you should talk to your doctor before starting any treatments.
Price
Ivy's Caralluma Capsules are sold directly through the manufacturer's website, and cost $13.50 for a 60 capsule supply, which should last twenty to thirty days. This is a very inexpensive price for a pure caralluma fimbriata capsule.
Guarantee
The makers of Ivy's Caralluma Capsules do not offer a guarantee on their product. This is very disappointing, because it can seem like they don't have any faith in their product. It's also slightly bewildering as to why they don't offer a guarantee, because their prices are already so low. (Maybe it's just a money grab?)
Conclusion Of Our Ivy's Caralluma Review
Ivy's Caralluma Capsules seems like it would be a great product. The pure caralluma fimbriata is a plus, with the fact that there are no allergens, gluten, meat or animal products, or anything other than pure caralluma making it possible for anyone (except for pregnant/nursing people) to take this product. Additionally, the price is extremely low, which makes this a good choice for people who are on a budget and still trying to lose weight. However, the lack of a guarantee means that this product is a risky choice, because if you try it and you don't see the results you want, you are out of luck. If you want a similar product that's a safer choice for your money, you could go with something else.
Bringing you top reviews and product analysis - Consumer Advisors.