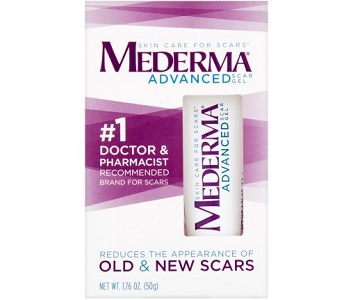 User Ratings (

0

Votes)

0
If you have long-lasting scars from years ago, whether from surgery, trauma or other reasons, you want a cream that can help diminish the color and severity of your scars. Read our review below about Mederma advanced scar gel to see how to treat long-lasting scarring and to help you look your best.
Ingredients
The only ingredient in this gel is allantoin. Allantoin helps your skin in so many ways: it acts as a moisturizer, smooths and soothes your skin, and can help with healing damaged skin tissue. We want to point out that other scar treatment products contain all-natural ingredients help heal and moisturize the skin, such as aloe vera, sunflower oil, jojoba oil, and vitamin C and E. Additions of these ingredients can help heal the skin faster.
Dosage
The application of this product is detailed as "apply as needed," which seems to lack important information about the skin like to clean and dry the affected area and how much cream should apply. Other gels or creams detail how often to apply the cream, form twice to four times daily, and it is insufficient information to just state to apply as needed.
Price
One Mederma tube of .7 oz costs $11.99 from Amazon to $24.99 through Walgreens. It is not available for purchase on the Mederma website. There are no bulk purchase deals or coupons offered either. Comparing the price with other scar treatment creams or gels, this price is a little high; you can buy three 1-oz tubes of scar repair cream for $33 per bottle.
Guarantee & Feedback
There is no available guarantee for purchasing this product. This raises the question of whether buying this product will be worth it if it doesn't have any results. Other companies that sell scar treatment creams offer three months or a year-long guarantee to return used or empty products if a customer isn't satisfied with results.Diminishing the appearance of scars takes time, which is a bonus of taking a long time to return a product.
Reading customer reviews of this product, we saw many people claiming that the product works as described. However, looking at the disappointed customers, we determined this gel shows little effect on the appearance of scars.
Our Conclusive Review About Mederma Advanced Scar Gel
Mederma advanced scar gel contains the ingredient allantoin aimed to help improve skin health. It can soothe irritated skin as well as speed up healing time, which is perfect to apply on wounds, no matter how old they are. This product is also on the cheaper side if you are just buying one tube. However, the lack of coupons or refunds offered is a deterrent to buying any skin care product; you want to ensure it works for you without wasting your time or money to buy this cream.
Bringing you top reviews and product analysis - Consumer Advisors.