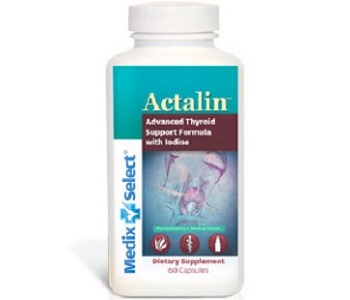 User Ratings (

0

Votes)

0
The following review is for a dietary supplement called Actalin. The company Medix Select is the manufacturer. This product is allegedly formulated to support both a health thyroid function along with a healthy metabolism. In addition, it is claimed that this product could help with immune and adrenal health. Read on for more.
Ingredients
Two (2) capsules provide:
Vitamin A (as retinyl palmitate) – 2500 IU
Vitamin D (as cholecalciferol) – 300 IU
Vitamin E (as d-alpha tocopherol succinate) – 100 IU
Riboflavin – 5 mg
Niacin (as niacinamide) – 30 mg
Iodine (from kelp and as potassium iodine) – 200 mdg
Magnesium (as gluconate) – 15 mg
Zinc – (as picolinate) – 5 mg
Selenium (as –L-selenomethionine) – 30 mcg
Copper (as picolinate) – 0.1 mg
Manganese (as gluconate) – 2 mg
Proprietary blend (guggul gum resin extract, ashwagandha root extract, forskohlii root extract, adrenal glandular bovine powder) – 540 mg
L-tyrosine – 300 mg
Methylsulfonylmethane – 50 mg
Iodine helps the body to produce thyroid hormones. The element copper assists iron to create red blood cells. The substance guggul gum resin extract stimulates the transformation of T4 to T3 and assists with the enhancement of the output of the thyroid gland. Whereas L-tyrosin (an amino acid) helps in the production of hormones. The herb, ashwagandha root extract helps to normalizes the body's physiology mainly caused by stress. Plus, this substance supports the thyroid function and is believe to be good for the immune system. Adrenal glandular bovine powder (sourced from cows and pigs) contains nutrients which helps to improve the adrenal system and provides support for stress. Whereas the herb forskohlii root extract stimulates the production of cyclic AMP that stimulates the manufacture of thyroid hormones.
Dosage
The manufacturer suggests taking two (2) capsules with meals. This should be done for at least three months.
Price
Actalin is available online. A 60-capsule bottle costs $39.95. The company does offer a package deal: buy three for $29.96 per bottle.
Guarantee
There is a 30-day manufacturer's money-back guarantee on this supplement. A costumer that is not satisfied with this product can return it, with a reason, for a refund (excluding shipping fee).
Conclusion Of Our Medix Select Actalin Review
This supplement Actalin seems a promising product for support of thyroid health. There are positive aspects, together with certain negatives. There is a 30-day money-back promise offered by the company, Medix Select. In addition, there are a bulk purchasing option with a discount available. This package is ideal since it is recommended that this product should be consumed for three months. Negative aspects include that the guarantee is only valid for 30 days from the date of purchase, and not 90 days. This as the manufacturer themselves indicates that this product is only effective after three months of use. Therefore, 30 days are not sufficient to grasp if this product is working or not. Secondly, this supplement contains bovine, making the product unsuitable for vegans or vegetarians. Lastly, this product is also hard to find. Some third-party sites such as Amazon are out of stock. This could imply that this product is not that popular or effective.
Bringing you top reviews and product analysis - Consumer Advisors.