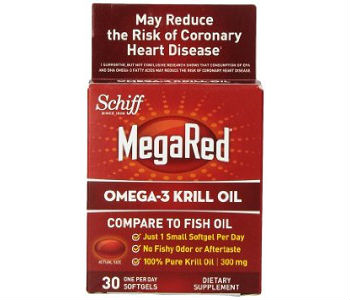 User Ratings (

0

Votes)

0
MegaRed Krill Oil contains Omega-3 fatty acid which contribute to the health of the heart. Omega-3 fatty acid cannot be produced by your body so it's important to get adequate amounts of Omega-3s from your diet. However, the highly refined processed foods of the Western diet have removed many healthy nutrients including Omega-3 fatty acid. This is why adding MegaRed Krill Oil to your daily diet is the best choice for receiving your nutritious Omega-3s.
 Ingredients
MegaRed Krill Oil's ingredient list includes:
300 milligrams 100% purest krill oil – Contains a rich supply of Omega-3s, especially EPA (Eicosapentaenoic Acid) and DHA (Docosahexaenoic acid). EPA and DHA are highly polyunsaturated fats that are very healthful to the functions of the human body. EPA is used in the treatment of heart disease, blood pressure and diabetes. DHA is important for proper brain and nervous system function.
50 milligrams Eicosapentaenoic Acid (EPA) – Eicosapentaenoic acid is a highly polyunsaturated fat found in the flesh of cold water fish. It plays a role as an anti-inflammatory. It is used in the treatment of heart disease, blood pressure and diabetes. It also improves the health of the brain and retina.
24 milligrams Docosahexaenoic Acid (DHA) – Docosahexaenoic acid is a highly polyunsaturated fat that makes up 15% to 20% of the brain. It is important for proper brain and nervous system function. It is also important for brain, eye and heart development in infants, children and adults.
130 milligrams Phospholipids – Class of lipids that are a major component of all cell membrane.
17 micrograms Astaxanthin – A very powerful antioxidant.
Dosage
The recommended dose of MegaRed Krill Oil is one softgel per day. There is no mention of whether or not it should be taken with meals or before meals.
Price
The standard price for a container of MegaRed Krill Oil is $29.99. The bottle contains 60 softgels which will last for sixty days. The package also contains a container of Vitamin D with 90 capsules. MegaRed Krill Oil is available also in packages from other reseller products. The manufacturer has not provided a way you can purchase the MegaRed Krill Oil softgels alone.
Guarantee
The manufacturer offers a guarantee of your money back thirty days from receipt of purchase. A contact number for customer service is also available.
Conclusion Of Our MegaRed Krill Oil Review
MegaRed Krill Oil is priced moderately for a sixty day supply. A product drawback is that the manufacturer provides this product only with other products as a package the consumer must buy. You might check with the manufacturer's customer service department to verify whether or not the Mega Red Krill Oil can be bought as a single product. Although Mega Red Krill Oil does not need a prescription to purchase, it's recommended that you have the contents of the product reviewed by a health professional.
Bringing you top reviews and product analysis - Consumer Advisors.