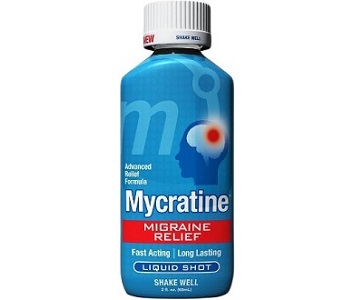 Quality of Ingredient

7.5

User Ratings (

0

Votes)

0
This is a review of Mycratine Migraine Relief, a homeopathic liquid blend formulated to bring relief to migraines and headaches. The manufacturer claims that this supplement might bring relief to migraines within 15 minutes, or will significantly reduce migraine symptoms within 15 minutes.
Ingredients
Active Ingredients:
Nicotine
Tryptophan
Caffeine
Phenylalanine
Nicotine restricts dilated blood vessels. Tyrosine forms during the synthesis of another amino acid called phenylalanine. Tryptophan boosts serotonin production, as migraine sufferers generally have low serotonin levels. Caffeine acts as a vasoconstrictor. Phenylalanine is used as a headache pain reliever.
The active ingredients contain only one ingredient that relieves pain and therefore cannot be effective. Key clinically proven ingredients are needed to reduce the severity and duration of a migraine as well as alleviate pain during the attack. These ingredients are Magnesium, Riboflavin, Feverfew, Butterbur, Niacin, Ginger, Ginkgo Biloba, Wild Yam Root, White Willow Bark, Bromelain and Black Pepper.
Inactive Ingredients:
Ester Gum
Citric Acid
Lemon Oil
Gum Acacia
Purified Water
Sucralose
Sodium Benzoate
Brominated Vegetable Oil
Ester Gum is used as a protective coating. Citric Acid is an alkalinizing agent that makes the urine less acidic. Lemon Oil may be used for health problems like headaches, high blood pressure, diabetes, respiratory problems, and asthma. Gum Acacia removes toxins from the body and is used as a prebiotic to promote good bacteria in the intestine. Sucralose is used as a sweetening agent. Sodium Benzoate causes less ammonia to be produced by the body. Brominated Vegetable Oil is used as an emulsifier.
The inactive ingredients may hinder the effectiveness and outcome of the supplement as per clinical studies should there be no artificial ingredients, additives or preservatives present.
Dosage
The recommended dose is to shake a bottle well and then drink the entire contents when the consumer feels that they are developing a migraine headache. The consumer has to wait 15 minutes, if there is no improvement they should take a second well-shaken bottle and drink the entire contents. It is not recommended to take more than four bottles a day. This supplement is intended for adults only.
Possible Side Effects
This supplement should not be taken if the consumer has phenylketonuria, is pregnant, or nursing. Before taking this supplement a doctor should be consulted if the consumer has asthma, ulcers, high blood pressure, diabetes, hyperthyroidism, or are taking prescription anti-depressants.
Price
The price for one bottle is $5.99 purchased from the manufacturer's website. This product may be bought through third-party retailers and the price varies depending on which third-party retailer is purchased from.
Guarantee & Feedback
After thorough research, we have not been able to find any guarantee from the manufacturer, which raises a great concern on our behalf as to the effectiveness and confidence the manufacturer has in this product.
The consumer reviews from third-party retailers are very positive.
Our Conclusive Review About Mycratine Migraine Relief
This product has been found to have good customer reviews and the price seems to be very low, unfortunately, did we find that there are clinically proven key ingredients absent in this supplement. These ingredients are crucial to bring effective relief, reduce the severity and the duration of a migraine as well as assist in alleviating pain during the attacks. The inactive ingredients contain artificial ingredients, additives or preservatives which may hinder the effectiveness of the supplement and the consumer might be at risk..
Bringing you top reviews and product analysis - Consumer Advisors.