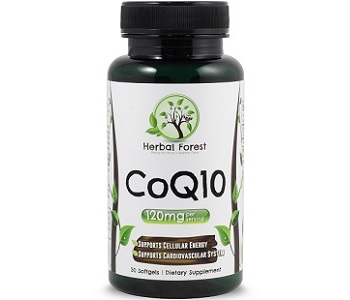 User Ratings (

0

Votes)

0
In this review, we have analyzed Herbal Forest CoQ10 and factors that may contribute to its ability to work as intended. The manufacturer of this supplement claims that it will support biochemical functions in the body and, thus, improve heart health and boost energy production. They argue that this product is more bioavailable than similar products on the market and contains a non-GMO formula.
Ingredients
The key ingredient in this product is Coenzyme Q10 (CoQ10). CoQ10 is a substance that occurs in the body naturally and primarily works to turn fats and other nutrients into viable sources of energy. This ingredient has a number of additional health benefits. These include reduced oxidative stress for improved heart health, enhanced enzyme support for better digestion, and increased absorption of nutrients for supported bodily function. These supplements are known to combat the decline of CoQ10 in the body with age. In the right dosage, this product may deliver these health benefits. It is a concern to note that the manufacturing of this product has not followed cGMP guidelines which would, otherwise, indicate that it is of a high quality. Furthermore, Piperine is an additional substance known to increase absorption and the lack of it in this formula is disappointing. There are several competitor products that include this ingredient for increased effectiveness.
Dosage
The manufacturer does not provide dosage recommendations. This is a concern as we are unable to determine how best to use this supplement. The suggested serving size is 1 softgel and this supplies 120mg of CoQ10. This concentration of CoQ10 per serving is substantially lower than competing products on the market, which contain up to 250mg. For optimal benefit, an additional dosage would be required.
Possible Side Effects
The manufacturer recommends that users do not exceed the recommended dosage, however, they do not provide dosage information on their website. They do warn that pregnant or nursing mothers, children under 18, and persons with known medical conditions contact a health practitioner before consumption. This may be due to the fact that CoQ10 supplementation can induce negative side effects such as nausea, headaches, and abdominal pain. We suggest discontinuing use if you experience any of these side effects.
Price
The product can be bought online from the manufacturer. A bottle of 30 softgels costs $14.75. This is a relatively competitive price, however, the lack of additional discounts could make long-term use a costly venture. Furthermore, an additional dosage is required for optimal benefit and this will shorten the lifespan of each bottle. Users would need to purchase this product frequently for maximum benefit and this would become expensive.
Guarantee & Feedback
The manufacturer does not offer a guarantee for the purchase of this product. This is very concerning as customers who are not satisfied with results have no way of applying for a refund. It also suggests that the manufacturer is uncertain of the efficacy of this product. Another concern is that there are insufficient customer reviews for this product. We, therefore, cannot confidently assure that this product is as effective as it is claimed to be.
Our Conclusive Review About Herbal Forest CoQ10
Herbal Forest CoQ10 contains a beneficial ingredient that is known to support heart health and boost the production of energy within the body. A positive factor about this product is that it is relatively affordable. That said, long-term use may become too expensive as frequent purchases would be required to deliver optimal dosage. Furthermore, there is no guarantee and insufficient customer reviews to vouch for the effectiveness of the product. These are a few of the reasons why we cannot recommend this CoQ10 supplement.
Bringing you top reviews and product analysis - Consumer Advisors.