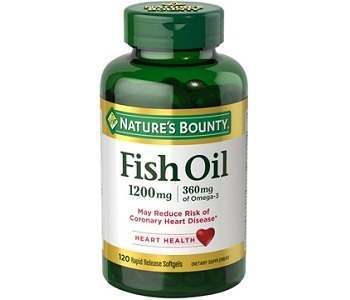 User Ratings (

0

Votes)

0
The following review examines the claims made by Nature's Bounty Fish Oil supplement. Nature's Bounty Fish Oil is a dietary supplement that provides 300 mg of omega-3 fatty acids. This product also provides DHA and EPA fatty acids that support and maintain the health of your cardiovascular system.
Manufacturer claims suggest that taking fish oil on a regular basis helps to keep triglyceride levels in normal range, ensuring the optimal health of your cardiovascular system. Nature's Bounty Fish Oil is formulated to reduce the risk of coronary heart disease.
Ingredients
Nature's Bounty Fish Oil contains 2000mg of fish oil. This is a blend of EPA, DHA, and other fatty acids. These oils are sourced from sardine, anchovy, and mackerel. The manufacturer claims that the fish oil ingredients are sourced from fresh waterways in Peru to ensure the highest standards of purity. However, it is concerning that the exact dosages of the EPA and DHA are not specified. These are the important elements of what makes an Omega-3 product effective. Other ingredients include:
Vegetable Glycerin
Gelatin
Food glaze
Mixed Natural Tocopherols
Polysorbate 80
Sodium alginate
Dosage
The manufacturer recommends a dosage of two softgel capsules daily, preferably with meals, providing 2000 mg of fish oil.
Possible Side Effects
Fish oil should not be taken when taking blood thinners or when you have a scheduled surgical procedure. When used in moderation for 1 to 4 weeks, fish oil is largely safe. However, it can cause adverse reactions in some people especially if used in higher doses, including nausea, heartburn, belching, nosebleeds, rash, and bad breath.
Individuals with fish allergies may experience allergic reactions after taking this supplement.
Do not supplement with fish oil if you're pregnant or nursing without consulting a doctor first.
Price
This product is not available for sale directly from the manufacturer, however, they provide a button for you to find another online retailer. We located two online stores displaying different prices for this product $8.59 and $13.99 which is quite a wide range in pricing.
As you'd expect with this price range, there are no discount offers we could locate. However, Nature's Bounty has a rewards system that requires signing up. They don't provide further details about the system beyond signing up.
Guarantee & Feedback
We did not manage to find any guarantee for this product, meaning that you carry all the risk when you make a purchase.
There is a review section on the website which lists the average user rating as 4 out of 5, although we only saw one user review listed.
Our Conclusive Review of Natures Bounty Fish Oil
Nature's Bounty Fish Oil claims to provide essential Omega-3 fatty acids for enhancing heart health and reducing the risk of coronary heart disease. We do not doubt this claim but we found the product lacking in many aspects. Notably, the fact that the maker is not willing to stand by their product in form of a guarantee says a lot about the quality of the supplement.
Overall, there are plenty of fish oil supplements being sold online and Nature's Bounty seems like another run-of-the-mill product. We did not find anything extraordinary about this product.
Bringing you top reviews and product analysis - Consumer Advisors.