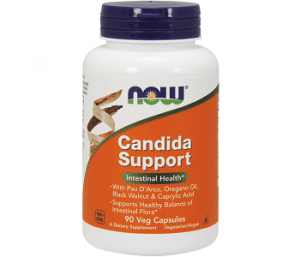 User Ratings (

0

Votes)

0
Fighting off the effects of a Candida overgrowth is no easy feat. The Candida fungus is a form of yeast that can cause digestive issues, skin rashes and breakouts, and vaginal yeast infections as well. Natural remedies such as changing your diet may help keep the symptoms under control. It is a good idea to limit sugar intake and to cut down on caffeine. Junk food, sugar, and a high carbohydrate diet are probably the main causes of an overgrowth of Candida. Along with changing your diet, many people have seen positive results with a natural supplement that can help heal your body and rebalance the growth of Candida Albicans in your body. In this review, we will look at NOW Foods Candida Support Veg Capsules.
Ingredients
The main ingredients are Pau D'Arco, Oregano Oil, Black Walnut, and acrylic acid. Other ingredients are cellulose, garlic, olive leaf, cat's claw root, wormwood herb, silica, magnesium separate and cellulose powder. These ingredients may help to support a healthy gut and balance intestinal flora. The manufacturer states that this product is not designed to get rid of Candida from the gut, but rather help restore balance.
Dosage
The recommended dose stated on the bottle is to take two capsules daily with food.
Possible Side Effects
This product is only for adult use. It is recommended that pregnant and breastfeeding women and those taking any medications should consult a doctor before taking this product.
Price
On the manufacturer's website, one bottle containing 90 capsules (equal to 45 servings) costs $19.99. While a bottle containing 180 capsules (equal to 90 servings) costs $35.99. On Amazon, you can purchase the 90 capsule bottle for $10.42 and the bottle containing 180 capsules for $17.36.
Guarantee & Feedback
We could not find any refund or return policy on the manufacturer's website or any other third-party websites. Usually, companies will offer at least a 30-day money back guarantee in case you are unsatisfied with the product.
Our Conclusive Review About NOW Foods Candida Support
The NOW Food Candida Support Veg Capsules are vegetarian-friendly. Their formula is a unique blend of herbs that are meant to restore gut health and rebalance intestinal flora in the hope that this will fight yeast infections. Although some of these ingredients may help reduce the symptoms of candida, we were surprised to find that there were no probiotic and prebiotic ingredients in the NOW Foods formulation. Probiotics such as Lactobacillus Acidophilus and Bacillus Subtilis are essential in controlling the growth of the fungus Candida albicans. Additionally, there are mixed reviews regarding the effectiveness of the product, and it was slightly worrisome that we could not find any return policy from this company. So, if you do purchase this supplement and find it unsatisfactory you may have trouble getting your money back.
Bringing you top reviews and product analysis - Consumer Advisors.