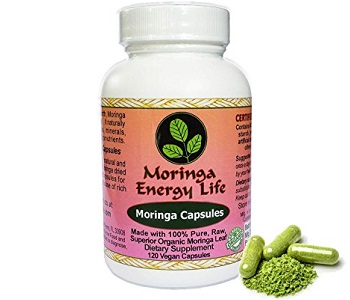 User Ratings (

0

Votes)

0
Everyone is talking about Moringa – and there is a good reason why.  It is known to be an excellent supplement filled with vitamins and minerals, antioxidants, amino acids, calcium, potassium, and vegetable protein too. The question about which Moringa product to purchase is the one at hand and today's review is for Moringa Energy Life to learn more about this product and determine whether this is the best product available on the market to help with weight loss goals and to help give you more personal stamina and improves issues around concentration to support your overall health.
Ingredients
The manufacturer does not provide a list of ingredients for this product and therefore all we know is from the front of the product label which states that it is made with 100% pure, raw, Moringa leaf.  There is no additional information available.  It is very important to be armed with information about a product to be sure you are making the right purchase.
Moringa is a plant that is native to Asia and contains proteins, vitamins, and minerals that offer a wide variety of health benefits. It is a strong antioxidant that can protect your cells from damage. When taken orally it is believed to support healthy respiration and can relieve anemia, arthritis, constipation, diarrhea, stomach pains, high blood pressure, kidney stones, thyroid disorders and can help increase milk supply for breastfeeding mothers.
Dosage
The dosage instructions are to take two capsules once a day, or according to the instructions of your healthcare professional.
Possible Side Effects
You should talk to your doctor before taking this supplement if you are pregnant or nursing because there is conflicting data about adverse effects.  As always if you have any medical condition, also check with your physician.
Price
This Moringa product can be purchased for $17.95 for a 120 capsule bottle for $17.95 at online third-party retailer sites; the manufacturer sells the same bottle for $29.95 so you are advised to do comparative shopping to find the best price.
Guarantee & Feedback
There does not appear to currently be a guarantee for this product but based on our research, there may have originally been a 30-day agreement for returns – but the link to that policy is no longer working. In summary, if you are moving forward with this purchase, please double check with the company to clarify their policy.
This product has very few reviews at this date; they are good reviews, but handfuls of reviews reflect that the product may not be used in a widespread manner.
Our Final Review of Moringa Energy Life
Moringa Energy Life leaves us with more questions than answers and it may simply be that this company is no longer investing in this product. We were not able to see the ingredients for this product which leaves consumers wondering what it is that they would be purchasing, to begin with.  With so many choices now for purchasing a Moringa product, there are many well-reviewed supplements available for purchase that come with satisfaction guarantees so that the product can be tried without any financial risk whatsoever.  Today the expectation is that manufacturers will be confident enough in their products to allow for risk-free purchasing for new buyers.
Bringing you top reviews and product analysis - Consumer Advisors.