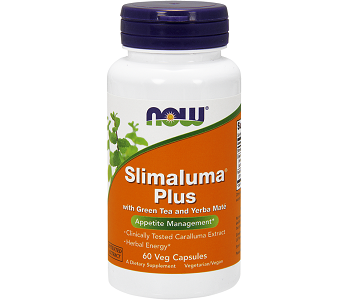 User Ratings (

0

Votes)

0
This Slimaluma Plus supplement is manufactured by the company NOW. In this review this product will be examined in more depth. This against the background that this supplement is claimed to help controlling appetite cravings and to assist users with weight management. Read our review for more.
Ingredients
Two (2) capsules provide:
Slimaluma Extract (Caralluma fimbriata) (Aerials) (500 mg)
Green Tea Extract (Camellia sinensis) (Leaf) (min. 80% Total Catechins and 50% EGCg) (up to 2 mg of naturally occurring caffeine) (200 mg)
Yerba Mate Extract (Ilex paraguariensis) (Leaf) (16 mg of naturally occurring caffeine) (200 mg)
Other ingredients include: cellulose (capsule), stearic acid (vegetable source), silica and magnesium stearate (vegetable source). Caralluma fimbriata is the main active weight loss agent. This substance helps to burn fat and to help prevent the formulation of new fat cells. However, in this formula the dosage is low – only 500 mg. This as clinical studies have found that the optimal dosage of this substance should be 1600 mg. Nonetheless, other ingredients include green tea and yerba mate. Yerba mate causes thermogenesis, (more calorie burn), amplified diuresis and suppressing hunger cravings, all of which increase the possibility for weight loss. Whereas green tea can somewhat enhance your metabolic rate and fat burning, thereby leading to weight loss.
Dosage
The manufacturer suggestion that a consumer should take two (2) capsules, two times, a day, 45 minutes before meals.
Price
This product is available online for the purchase price of $24.99 (60 capsule bottle). No discount or package deals are offered by the manufacturer.
Guarantee
Despite the company indicating assurances about the quality of the supplements, about how it is produced, what ingredients are used, and which regulatory bodies it is members of, we were unable to location a clear manufacturer's guarantee nor a return policy from the maker, this despite our research efforts. This is a concern, as it increase the risk for the consumer buying the product, particular since each person will react differently to a supplement – that could include side effects thus resulting in a buyer wasting their money on a product that has adverse effects on them.
NOW Slimaluma Plus Review – Conclusion
As a weight loss product, Slimaluma Plus, seems promising. It is produced in a GMP certified factory, which means that the contents and the label matches. Plus the maker offers clear and concise dosage instructions which makes it easier for the end user to obtain optimal benefits from this slimming product. That said, there are also some concerns. Firstly, the lack of a guarantee means that a buyer has some risk, especially if the product does not work for them or has some negative effects. Secondly, and more importantly, the quantity of the active ingredient caralluma fimbriata is a mere third of what scientific studied concluded should be the optimal level. Thirdly, this product, which includes both green tea extract and yerba mate is extremely high in caffeine – that could lead to insomnia, upset stomach, restlessness, irritability, nervousness, a fast heartbeat and even muscle tremors.
Bringing you top reviews and product analysis - Consumer Advisors.