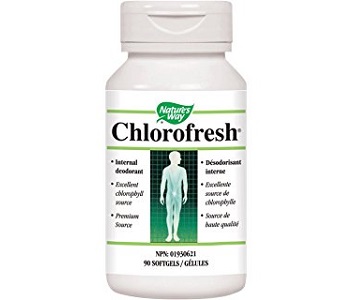 User Ratings (

0

Votes)

0
Bad breath and body odor are commonly attributed to maintaining improper hygiene. This is a common misconception because while odors can be made worse from keeping poor hygiene, body odors generally signify a problem from within. Common deodorants and mouthwash act as temporary solutions because they don't get to the root of the problem and only temporarily relieve odors. This review is going to take a closer look at Nature's Way Chlorofresh. Nature's Way claims that their product works as an internal deodorant that combats body odors from within. They achieve this through their blend of ingredients that are formulated to cleanse the body of odor-causing toxins.
Ingredients
Active Ingredients:
Copper (from Chlorophyllin copper complex) – 4.5 mg
Sodium – 10 mg
Chlorophyllin (chlorophyllin copper complex from mulberry leaf) – 100 mg
Inactive Ingredients: soybean oil, gelatin, glycerin, yellow beeswax, purified water, soy lecithin.
Chlorophyllin is believed to help cleanse the body of odor-causing bacteria and toxins by cleansing the toxins in the bloodstream.
Dosage
Chlorofresh recommends for adults and children over the age of 12 to take 2 softgels 1-2 times daily. If you do not find 2 softgels to be effective, they recommend taking an additional 2 softgels but not to exceed 6 softgels a day. They recommend children under 12 to consult a doctor before consuming this product.
Possible Side Effects
Chlorofresh lists cramps and diarrhea as possible side effects. If side effects persist, they recommend stopping use and consulting your doctor.
Pregnant women, nursing mothers and those taking medication should consult their doctor before use.
Price
You can buy this product from different third-party retailers. We found one 90-softgel bottle available online for $9.07. There are no bulk purchasing packages or discounts offered.
Guarantee & Feedback
Nature's Way clearly states on their website that they do not offer any sort of money back guarantee and the product is purchased through a third party retailer and is purchased 'as is.' We found many negative consumer testimonials that claimed that this product was entirely ineffective after taking it continuously.
Our Conclusive Review About Nature's Way Chlorofresh
This product appears to be decent. It contains ingredients that have been shown to have properties that can alleviate bad breath and body odor. They also are available for a fairly reasonable price. However, this product contains soy which is a common allergen and many users reported that they experienced severe allergic reactions from taking these softgels. Throughout our research of this product, we continuously came across negative consumer reviews. Countless users reported that after continual use, they did not experience any relief from body odor or bad breath and others claimed that taking Chlorofresh made their body odor worse. There were several complaints from users who reported that they experienced severe side effects to the point that they needed to stop taking Chlorofresh immediately. Although the price is fair, it appears that you get what you are paying for with Chlorofresh; a cheap, ineffective product.
Bringing you top reviews and product analysis - Consumer Advisors.