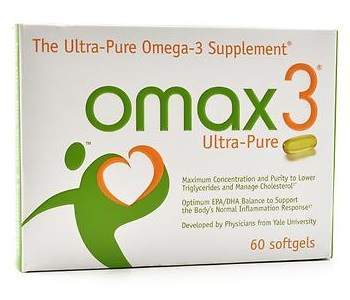 User Ratings (

0

Votes)

0
Our Omax3 Ultra-Pure review will give you all the information you need to know about Omax3 Ultra-Pure, a supplement that has been highly recommended by doctors as the best Omega-3 specifically crafted to help increase mental alertness and concentration levels at any age, as well as maintain healthy triglyceride levels which lowers blood pressure. Omax3 has also shown great performance in suppressing joint stiffness which improves muscle recovery and reduces cellular inflammation in the body. Find all you need to know by reading our full review below.
Ingredients
Omax3 Ultra-Pure is made up of only two ingredients namely Vitamin E and omega-3 fatty acids. The manufacturer claims that all ingredients are tested by independent third parties to ensure their purity, then they are combined using a proprietary 4:1 EPA to DHA ProResolv formula to form the magical Omax3 Ultra-Pure. The omega-3 fatty acids are believed to be behind improved memory, increased focus, and enhanced cognition.
Dosage
Adults are recommended to take 2 softgels per day after eating and with water.
Possible Side Effects
Although the manufacturer doesn't mention any possible side effects of Omax3 Ultra-Pure, there is a high chance that you might experience fish reflux and mild fish burps.
Users of Omax3 Ultra-Pure are also likely to encounter common side effects of omega-3 supplements such as fishy breath, loose stools, stomach upset, and nausea. Increasing the dosage of Omax3 beyond 3 grams per day may significantly raise the risk of bleeding.
Rare severe side effects may include coughing, difficulty in swallowing or breathing, increased heartbeat, dizziness, itching, hives, or skin rash, headache, nosebleeds, vaginal bleeding and increased menstrual flow, paralysis, puffiness of the face, red or dark brown urine; red or black stools; tightness in the chest; sweating; tiredness or weakness.
However, most of the side effects should disappear as your body gets used to the supplement.
Price
Omax3 Ultra-Pure can be purchased online from the manufacturers' official website and other online stores like Amazon, Walmart, GNC. The retail price for one box containing 60 capsules based on the company's website is $47.95, plus shipping and handling. The manufacturer also offers special discounts on bulk purchases. You can buy three boxes for a total cost of $95.90, and six bottles for a total cost of $179.94. The three and six-box packages come with free shipping.
Guarantee & Feedback
This product does not come backed by any sort of money-back guarantee from what we could see on the manufacturer's website. It's possible you could contact their customer service if you are unhappy with the product. This is a huge let down for a product that claims to be backed by doctors and science. The product has received positive reviews on the manufacturer website as well as across the internet.
Our Conclusive Omax3 Ultra-Pure Review
Omax3 Ultra-Pure seems to be a very good omega-3 supplement that promotes eye, joint, brain, and heart health. The high concentration of Omega-3s and purity is what make this supplement effective. Despite, numerous positive feedbacks, the price of the supplement may be too expensive for many customers. And as the product is not backed by any money-back guarantee, you are taking on all of the financial risk of buying this product.
Bringing you top reviews and product analysis - Consumer Advisors.