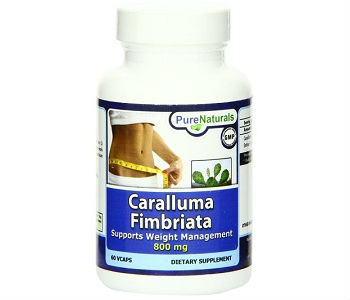 User Ratings (

0

Votes)

0
Introduction
Are you struggling to lose weight? Tired of endless routines of dieting and exercise, and taking strange supplements that you have no idea about, and seeing no results? Here we're going to give you some information so that you can make better decisions about the products you choose to take. Caralluma is the extract of the caralluma fimbriata plant, which contains phytochemicals known as pregnane glycosides. When you take these pregnane glycosides, they block the absorption of an enzyme known as citrate lyase. Citrate lyase causes the production of fat within the body, so blocking it will prevent that. Additionally, caralluma is a strong appetite suppressant, so you won't feel like you need to eat until you're actually hungry. Since caralluma is such a help, many different weight-loss supplements have started taking advantage of its good effects. However, it can be hard to tell the good supplements from the bad ones. Let's take a look at Pure Naturals Caralluma Fimbriata to see which category it falls under.
Ingredients
Pure Naturals Caralluma Fimbriata contains only pure caralluma, with no other ingredients such as:
Sugar
Starch
Yeast
Corn
Wheat
Salt
Soy
Egg
Milk
Shellfish
Preservatives
The capsule that Pure Naturals Caralluma Fimbriata comes in is vegetarian and doesn't contain any fillers or binders, or any artificial ingredients.
Dosage
Pure Naturals LLC, the manufacturers of Pure Naturals Caralluma Fimbriata, suggest taking two capsules a day. Of course, if your healthcare provider suggests a different dosage, you should follow their instructions.
Pure Naturals Caralluma Fimbriata contains no ingredients that should interfere with other medical conditions. However, you should talk to your doctor before starting treatment, especially if you are breastfeeding, pregnant, or taking any other medications.
Price
One bottle of Pure Naturals Caralluma Fimbriata, which can be purchased directly from the Pure Naturals website, costs $29.99. Since one bottle contains 60 capsules, this is a one-month supply.
Guarantee
Pure Naturals LLC offers a full 30-day guarantee on their product. While it's a good start that they offer a guarantee, it's slightly disappointing that you only have one month to redeem the guarantee. Weight-loss products can sometimes take over a month to work, and it's sad to think that your guarantee may run out while you are still deciding about the product.
Conclusion Of Our Pure Naturals Caralluma Fimbriata Review
Pure Naturals Caralluma Fimbriata is a good choice for your caralluma supplement. It contains only pure caralluma, with no other additives that may make this product unsuitable for any people. The price is fair for caralluma supplements; it's not the cheapest supplement around but you're also not paying an inflated price for the same product. However, the guarantee is a little lacking. You may not be able to see if you're getting the results you want with only a month's time to decide. If you want a similar product that comes with a stronger guarantee, you could try something else.
Bringing you top reviews and product analysis - Consumer Advisors.