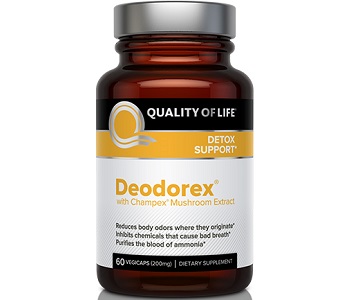 User Ratings (

0

Votes)

0
Bad breath and body odor are commonly attributed to keeping a bad hygiene routine. This is a misconception because body odor and bad breath, although can be worsened by having bad hygiene, usually signifies internal issues from within the body. This review is going to take a closer look at Quality of Life Deodorex. This product is an odor-fighting supplement that tackles odors where they start from within the body. Quality of Life believes that offensive smells occur when food is decomposed by intestinal bacteria into odor-causing substance like ammonia, indole, and skatole. Their product is designed to reduce body odors where they originate by decreasing levels of these toxic chemicals in the intestines and blood. It also helps cleanse the body, purify the blood and maintain normal levels of uric acid.
Ingredients
This product contains the main ingredient. 500mgs of Chapmex (Concentrated Champignon extract (Agaricus bisporus), dextrin, and DL-malic acid). Champex is used to suppress odor compounds through its methanethiol and alkylthiol with the phenols of the mushroom. It also has the ability to neutralize the toxic odor-causing substance like ammonia, indole, mercaptan, hydrogen sulfide and amine from the intestines and bloodstream.
Other Ingredients: Vegetable Cellulose, Leucine
Dosage
The manufacturer recommends taking 1 VegiCap in the morning and 1 VegiCap in the evening, together with a meal. To fight bad breath, they recommend you can empty out the contents of one capsule into a small amount of water, rinse for 30 seconds and spit out.
If you are under medical supervision, pregnant or nursing, consult with your doctor before taking this product.
Possible Side Effects
Quality of Life does not list any possible side effects. In our research, we discovered that you can experience mild side effects like nausea, headache, upset stomach and nosebleeds from taking high dosages of Champex.
Price
This supplement is available to purchase on the manufacturer's website. One 60 VegiCap bottle is priced for $29.95. They do not offer any bulk purchasing packages or discounts.
Guarantee & Feedback
The manufacturer offers a 30-day money-back guarantee but only for unopened bottles that are returned in the same condition you received them. We found that many consumers reported that Deodorex had little to no effect on them and they were disappointed that considering the expensive price for each bottle, they could not be issued a refund.
Our Conclusive Review About Quality of Life Deodorex
Deodorex appears to be a decent product. Its main active ingredient is Champex that has been shown to have odor reducing properties. We always look for a money-back satisfaction guarantee when researching a product and while Quality of Life does offer one, it is weak and limited. You cannot return opened bottles which means that if you try it and experience adverse side effects or it does not work for you, like many consumers who have tried Deodorex reported, you cannot get your money back. Although Champex has been associated with having properties that can reduce body odors, the overall active ingredient list is limited, which is consistent with consumer reports that stated Deoderex had no effect on them. Taking into consideration that the money-back guarantee is limited, there is only one active ingredient and the negative consumer reviews, this product is too expensive to take a risk on and we are inclined to inquire about other colon cleaners that offer better guarantees, have more active and effective ingredients and better consumer reviews.
Bringing you top reviews and product analysis - Consumer Advisors.