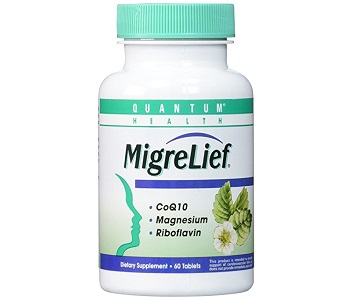 User Ratings (

0

Votes)

0
Today we review Migrelief from Quantum Health. We all know how a migraine can put a stop to even our most productive of days, whether you are a stay at home mom or a business mogul, migraines are something that everybody wants to deal with quickly and effectively. Migrelief claims to help fight off migraines over a period of time. Migrelief is a supplement that claims to provide benefits within a 4 – 12 week period. This product has a build-up period before any difference in migraine intensity or occurrence can be seen and does not provide immediate pain relief. To better understand this product, read our review below.
Ingredients
The primary ingredients include:
Secondary ingredients include:
Microcrystalline Cellulose
Stearic Acid
Croscarmellose Sodium
Magnesium Stearate
Silicon Dioxide
Migrelief would be a perfect product for vegans or health conscious individuals as it does not contain any yeast, milk, corn, wheat, gluten, soy, salt, artificial flavorings or preservatives.  The primary ingredients aid migraine symptoms over time. Riboflavin is very good for individuals who may not have enough vitamin B2. CoQ10 has also been proven to be crucial in preventing migraines. Magnesium is needed for adequate nerve function and is considered a natural remedy for migraines.
Dosage
It is recommended that you only take two pills of Migrelief per day. After 4-12 weeks, you are supposed to notice benefits to your cerebrovascular tone.  Unfortunately, we could not find any information that mentions if you should take the supplement after or with meals.
Possible Side Effects
No side effects are mentioned on the label of this product but they do urge customers to keep this product out of reach of children.  They also advise you to consult your doctor before taking this supplement, especially if you are pregnant, nursing or have a medical condition.
Price
You can buy Migrelief at online retailers worldwide.  The price will vary depending on where you buy this product but it is available on Amazon for $84.99 per bottle which includes free shipping.  You cannot buy this product on the manufacturer's website.
Guarantee & Feedback
Since you cannot buy directly from the manufacturer of this product, the guarantee will differ based on the retailer's regulations regarding Migrelief. If you order Migrelief from Amazon then you will eligible for the 30-day return policy if you are not happy with this product.  We find the fact that you cannot order this product from the manufacturer's website to reflect poorly on this product. If the manufacturers were truly confident in this product then they would have given customers the opportunity to buy this product from a proper website dedicated to this product that also offers an exceptional guarantee.
Our Conclusive Review About Quantum Health Migrelief
We like the fact that the ingredients in this product are aimed at bettering the effects of migraines over the long haul. We also like that all of the ingredients in Migrelief are suitable for vegans and to super health conscious individuals. Unfortunately, we feel that the manufacturer of this product is not very confident in the abilities of Migrelief, because of a lack of a proper website representing this product. We also find this product to be a bit pricey seeing as results will only be observable in 4-12 weeks' time.
Bringing you top reviews and product analysis - Consumer Advisors.