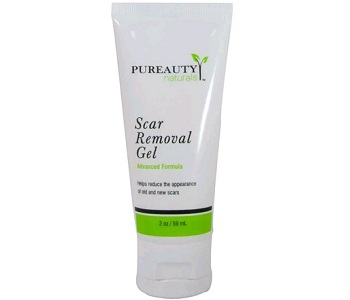 User Ratings (

0

Votes)

0
Most of us can recognize the pale, dense and rough appearance of a scar because it is so noticable and most of us have at least one scar. Scars are formed as part of the natural healing process and contain large amounts of fibrous tissue, which gives it that rough appearance. It can take ages for this scar tissue to disappear on its own. However, there are many creams and gels available which can help to speed this process up. One such product is Pureauty Advanced Scar Removal Gel, which we inspect closely in this review.
Ingredients
The major ingredient in this gel is the organic juice extract from the Aloe Barbadensis Leaf. Aloe extract is used in almost every skin healing product because it has been proven to be very effective at improving the condition of damaged skin. This is because it contains a diversity of compounds which have antimicrobial, antioxidant and regenerative properties. These compounds keep the wound sterile, reduce tissue damage from free radicals and promote skin cell replication. Another ingredient in this product which improves skin cell replication is allantoin.
This gel also contains onion bulb extract, which beyond its antioxidant and antimicrobial properties, can act as a mild antihistamine which reduces redness and swelling.
Tocopheryl acetate is another important component of Pureauty Advanced Scar Removal Gel, because it helps with collagen synthesis. Collagen is the fiber present in skin which is responsible for its firmness.
This product is lacking in concentrated vitamins however. Vitamins, such as vitamins C are paramount to the healing process.
Dosage
Pureauty Advanced Scar Removal Gel should be applied once a day for up to six months on the affected area. It should not be applied to open wounds or areas which still contain stitches.
Price
One tube of Pureauty Advanced Scar Removal Gel contains 2 oz of the gel. Each tube costs $20.99 and can be bought online. There are no discounts for buying in bulk, which can make long term use of the product more costly.
Guarantee & Feedback
Pureauty Advanced Scar Removal Gel is supported by a 90 day money-back guarantee in the case that a customer is unsatisfied with his/her results from the use of this scar removal gel.There are several reviews available and the majority of them support the product.
Our Conclusive Review About Pureauty Advanced Scar Removal Gel
Pureauty Advanced Scar Removal Gel contains many scientifically proven, safe ingredients which are well known to promote skin healing and scar reduction. Pureauty offers their product at a reasonable price with a good guarantee. The customer feedback for this product is mostly positive too.
However, we do not believe that this product is the best available to reduce scarring because it lacks key vitamins which many other products include. We also find the dosage of this product to be too low. A product which is applied three times a day gives a much more consistent dosage of the important healing substances and will likely heal the scar faster. Furthermore, Pureauty does not offer a discount for buying in bulk, which makes the long term use of this product much more expensive and tedious.
Bringing you top reviews and product analysis - Consumer Advisors.