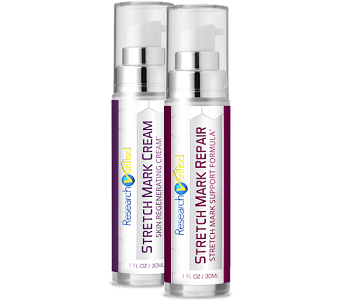 User Ratings (

0

Votes)

0
This is a review of  Research Verified's Stretch Mark Repair. Research Verified claims that a lot of Stretch mark treatments are out on the market, but they disregard the research and thus, they make inferior products. Research Verified did all the research and has created a Stretch Mark treatment that is touted as one of the best Stretch mark medicines out there.
Research Verified's Stretch Mark Repair is a gel and cream combo that effectively treats and removes visible Stretch marks. It contains a potent mix of ingredients that are scientifically proven to be effective against those unwanted Stretch Marks. Read on to find out if Research Verified's Stretch Mark Repair lives up to its claims.
Ingredients
Research Verified Stretch Mark Repair gel contains:
Medical Grade Silicone gel (Dimethicone, Cyclomethicone, Dimethiconol, Cyclopentasiloxane, Simethicone/Vinyl Dimethicone and Crosspolymer)
Research Verified's Stretch Mark Repair cream contains:
Sunflower seed oil
Onion Bulb Extract Seed oil
Vitamin E
Emu Oil
Vitamin C
Palmarosa Oil
Immortelle extract
Allantoin has been known to keep your skin moisturized as well as minimizes dryness and scaly patches on the skin. Jojoba Oil has been found to have a plethora of skin benefits. It has anti-bacterial and anti-inflammatory properties as well as a good remedy for removing stretch marks.
Dosage
The Research Verified's gel and cream should be used in conjunction with each other. Gently massage the gel first before applying the cream to affected areas. Use at least three (3) times a day.
Possible Side Effects
The product is created with all-natural ingredients and has no documented side effects. Reviews about Research Verified show that this manufacturer ensures the safety of their products. But, the label indicates that this is for external use only. If you have accidentally swallowed the product, seek the help of a doctor immediately.
Price
Research Verified gives the customers huge discounts if you buy more than one bottle. If you buy their 6-bottle bundle (3 gels and 3 creams), you will only pay $144. If you want to buy 4 bottles (2 gels and 2 creams), you only have to pay $116. If you just want to try out the product and buy one gel and one cream, pay only $80.
Guarantee
Among all other products that offer to remove Stretch Marks, Research Verified gives customers the freedom to return the products for one (1) whole year! If you are dissatisfied with the results of using this product, just return the product and you will get a full refund with no questions asked!
Research Verified's Stretch Mark repair system was also made from a cGMP-certified lab which is registered in the FDA. That means that you are guaranteed of high-quality products, each and every time.
Conclusion Of Our Research Verified Stretch Mark Repair Review
After much research, Research Verified's Stretch Mark Repair products has the most potent dose of ingredients that are proven to be effective in not only removing stretch marks but also nourishing your skin. Research Verified is a trusted manufacturer and is also insured by buySAFE. The manufacturer has also garnered a quality award with an A+ rating. If you are looking for a solid Stretch Mark removal product out in the market, Research Verified's Stretch Mark repair is probably one of the better choices.
Bringing you top reviews and product analysis - Consumer Advisors.