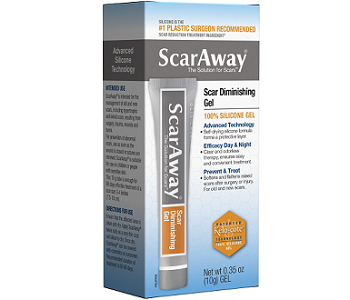 User Ratings (

0

Votes)

0
The following review is about ScarAway scar diminishing gel. We'll analyze how effective this gel is to smooth and reduce scarring, even on older scars. Read about the ingredients, dosage, price, and feedback to see how this product compares to other scar treatment gels on the market.
Ingredients
There are two ingredients in this gel:
Polysiloxanes are also known as silicones. Their texture is like rubber and they are often used to beauty products. Using silicon prevents scar tissues to form and can improve the appearance of a scar already on the skin. Silicon dioxide is also known as silica. It is non-toxic and is used to bind with silicon. Silicone helps tighten the skin and make it look fresher. It helps with scars to reduce skin discoloration and smooth out raised scars.
Keeping the ingredients to a minimum could be effective, but there are other scar treatment products that contain natural ingredients that can help with scar removal as well as maintaining the overall health of your skin. Some of these ingredients include aloe vera, vitamin E, and sunflower oil.
Dosage
Making sure the area with scarring is clean and dry, apply the gel twice a day, make sure to only apply a thin coating and wait for it to dry. Treatment should continue for 2-3 months. Application for other scar treatment gels is usually used more times daily, up to three to four times. It brings up the question whether twice daily will be enough to treat scar tissues, especially if they are years old.
Price
For a standard size bottle containing .35oz, it costs a little over $11 on Amazon, $35.99 at Walgreens. You cannot purchase this product over the website but it is available throughout all pharmacies in the US and Canada. There is a $5 coupon that you can print off from the site to save $5 off any ScarAway product. However, other products have bulk discounts so three 1-oz scar treatment creams are worth $33 each, making it well worth the purchase, versus spending $35.99 on one .35 oz bottle of this product.
Guarantee & Feedback
We have bad news for this product here: there is no guarantee for this gel. That means if a customer is unsatisfied with the results, there is no refund they can receive after buying an expensive product. Other creams or gels that help reduce scarring have 30, 90 or even a year-long guarantee to return used or empty products.
From the feedback we saw on Amazon, there were so many unhappy customers not about the effectiveness of the gel but the metal ball applicator that comes with the tube. The product design makes application impossible as no gel is dispensed despite the roller ball. It is even painful for those trying to reduce surgical scars.
Our Conclusive Review About ScarAway Scar Diminishing Gel
ScarAway scar diminishing gel looks like an effective product that helps reduce scarring and improves the coloring and texture of your scars. It is widely available and even comes with a coupon to help you save $5 on any ScarAway product. Although it has just two ingredients to help your skin's appearance and elasticity, other scar treatments contain natural skin-repairing ingredients like aloe, vitamin E and essential oils like sunflower oil. The lack of guarantee combined with the high price makes this product unappealing when compared with other scar treatments.
Bringing you top reviews and product analysis - Consumer Advisors.