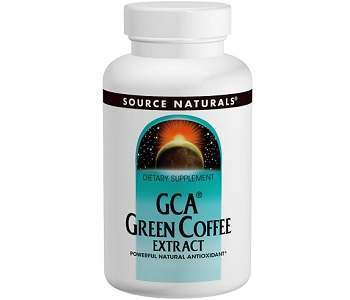 User Ratings (

0

Votes)

0
This is a review of the product Source Naturals GCA Green Coffee Extract which claims to be a powerful source of antioxidants. These antioxidants help prevent free radicals from damaging the cells in the body, which is one of the main factors in aging. Green Coffee supplements are generally used for weight loss, which the manufacturer has made no mention of as one of its benefits. The chlorogenic acid found in green coffee is what gives it its weight loss and antioxidant properties.
Ingredients
This product contains 1000mg of green coffee bean extract containing between 45-50% chlorogenic acid. 50% chlorogenic acid is the necessary percentage for efficacy. It is concerning that an exact percentage of chlorogenic acid is not given and that it is a range. This could indicate that manufacturing practices are not consistent.
Green coffee beans are unroasted coffee beans that are packed with antioxidants. Chlorogenic acid gives green coffee beans its weight loss properties.
Dosage
The manufacturer recommends taking one to two capsules once or twice a day. This is a range of one to four capsules a day. Two capsules contain 1000mg of green coffee extract, so only taking one capsule a day won't produce many results, but taking four capsules is much higher than the recommended daily dosage so this may lead to side effects. The manufacturer is not clear on when you should one capsule and when you should take four.
Possible Side Effects
The manufacturer does not mention any side effects. However, they caution pregnant and breastfeeding women against using this product without consulting a doctor first. This product contains the equivalent amount of caffeine as found in half a cup of coffee.
Price
You cannot buy this product from the manufacturer's website. However, the manufacturer has a tool where you can enter your zip code and they will show you a store near you where you can buy the product. The have provided the suggested retail price on their website. A bottle containing 30 tablets will cost around $16.98, a bottle containing 60 tablets will cost around $32.50 and a bottle containing 120 tablets will cost around $63.50. This product is also available for purchase from various online stores.
Guarantee & Feedback
We did not come across any money-back guarantee offered by the manufacturer. This may have to do with the fact that they don't sell the product directly, though it's still a good thing to provide. The reviews that we found for this product on Amazon had almost as many negative reviews as it did positive. A large portion of reviews said the product did not work for them at all and they saw no results.
Our Conclusive Review About Source Naturals GCA Green Coffee Extract
The manufacturer states that their products are made from non-GMO ingredients. They also say that they test every product for quality. However, this product does not have any certifications such as GMP. The ingredients seem to be inconsistent with the range of chlorogenic acid between 45-50%, and 50% is the optimal amount, so anything below this may not produce results. Based on the user reviews, this product does not actually seem to work for everyone. Without the money-back guarantee, if the product does not work for you, you will not be able to get your money back. There are other products on the market that offer consistent ingredients and come backed with guarantees.
Bringing you top reviews and product analysis - Consumer Advisors.