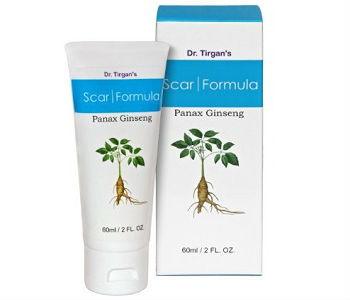 User Ratings (

0

Votes)

0
This is a review of Scar Formula. This product is a keloid and scar removal product formulated by Dr. Michael Tirgan. Differentiating itself from other products available in the market, Scar Formula sets itself apart by having Ginseng as one of its main components. Scar Formula is available in 1oz or 2oz tubes. 15% of its sales proceeds are donated to the Keloid Research Foundation in order to find better ways to treat Keloid Disorder.
Many people try various home remedies and products to remove or reduce scars. Some people may even consider surgical scar-removal procedures. The skin is the largest organ of the body. It is your greatest protection against pathogens that can make you ill. If you've ever had an open skin injury, you probably noticed a scar after healing. Scars are part of the body's healing process. Their visibility depends on several different factors including:
nature of the injury;
healing time;
age;
race — high levels of melanin in the skin will make a scar worse
There are a variety of products on the market and sorting through them and selecting the best one for your needs can be confusing. Many companies trying to cash in on trends do not really care about the quality of their product, therefore their products may be ineffective. We decided to conduct some independent online research to learn about this product. Read on to find out if this product is right for your needs.
Ingredients
This product contains a very simple formulation.  This is an all natural herbal topical supplement. Ingredients include:
Ginseng — Based on research, Dr. Michael Tirgan discovered that ginseng contained anti-keloid and anti-scar properties. Through further study, he found that ginseng was capable of promoting and improving wound healing.
Dosage
Scar Formula can be applied twice a day for at least four weeks. It is recommended to be used on simple bruises, minor cuts, scratches, and minor wounds. For keloids and chronic scars Scar Formula may be applied twice a day for at least eight weeks.
Side Effects
Scar Formula should not be used by women who are pregnant, breast feeding, or those who are trying to be pregnant. It should not be applied on open wound or irritated areas.  Contact a doctor if you have any questions or issues.
Price
Scar Formula is available in 1oz and 2oz tubes. The prices for each are $29.95 and $54.95 accordingly. Prices for each tube do not include shipping charges and taxes. Fifteen percent of sales of Scar Formula treatment goes into the Keloid Research Foundation.
Guarantee
There is no guarantee information available on the Scar Formula website. You may need to get in touch with them directly for further information.
Conclusion Of Our Scar Formula by Dr. Michael Tirgan Review
This is a good product. It has some good reviews but it would serve the company better if they had a FDA inspection done for the product and also provide a solid money back guarantee for it as well.
Bringing you top reviews and product analysis - Consumer Advisors.