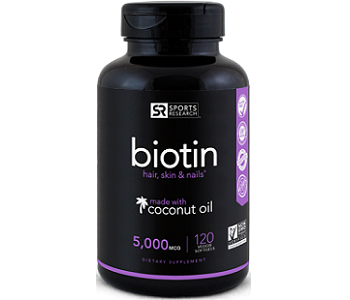 User Ratings (

0

Votes)

0
Today we review Sports Research Biotin.  Made with organic coconut oil, this supplement claims to help you grow stronger and healthier hair, nails, and skin.  This B vitamin is essential to cell growth. Also, with a non-GMO, vegetarian, and gluten free capsule, this supplement is safe to take.
Ingredients
Each softgel consists of 5000 mcg of biotin, in the form of d-Biotin USP.  The optimal dose of biotin is 10000 mcg daily, so each capsule is lacking half of what you should be taking.  This concerns us about how effective this product will be. However, the capsules are made specifically to be free of virtually all allergens, including peanuts, shellfish, dairy, and gluten.  The ingredients are also all vegetarian and Kosher, making these supplements accessible to almost everyone!
Dosage
The recommended daily dose of this product is only 1 capsule. You should take the capsule with a meal.  Unfortunately, as stated above, with only one softgel per day, you will only get 50% of the clinically proven amount of Biotin needed for optimal results.
Possible Side Effects
While this supplement is free of most allergens, it does contain coconut, which is a tree nut.  If you have a known allergy to tree nuts, you should avoid this supplement. The manufacturer also says that if you are pregnant or nursing, or have other medical conditions, you should consult with a healthcare professional before taking these softgels.
Price
Each bottle contains 120 softgels, which if taken according to the directions, should last you 6 months.  One bottle costs only $18.99, which for a is quite cheap when compared to other biotin products. While the company does offer free shipping on all orders purchased on their website, there are no actual discounts available for this product for things like buying in bulk.
Guarantee & Feedback
Sports Research does offer a 90 day money back guarantee, but they also attach many stipulations to their return policy.  You can only return first time purchases of a product, and the product needs to be accompanied by the original receipt and a Return Authorization number, which is received from their customer service.  The items then must be shipped back at the customer's expense.
Also, these softgels currently do not have any customer reviews.  Without reviews, we are unable to tell how effective this product is at helping you grow stronger hair, nails, and skin.
Our Conclusive Review About Sports Research Biotin
There are a few things we liked about Sports Research Biotin.  First off, these softgels are free of almost every allergen, they are non-GMO, and they are vegetarian, making the great for almost everyone.  Also, costing only $18.99 for half of a year's worth of capsules is a great price.
However, there are also many things that concerned us regarding this product.  The supplement only contains half of the daily recommended amount of Biotin, which shows that these capsules will be less effective. They also contain tree nuts which is a very common allergy among people in the US.  Also, the company's guarantee comes with quite a few stipulations which could make it difficult to claim a refund, should you be dissatisfied with this product. Lastly, there were no available customer reviews to show what previous customers think about this product.  For these reasons, we cannot recommend this supplement to help you have healthier and stronger looking skin, nails, and hair.
Bringing you top reviews and product analysis - Consumer Advisors.