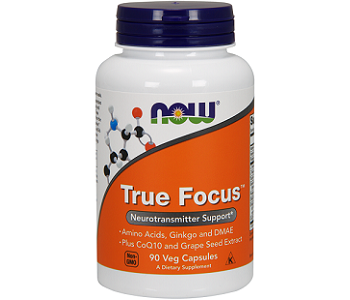 User Ratings (

0

Votes)

0
Stress, anxiety and your emotional state play an important role in how well your brain is functioning. When your mind is burdened or overloaded with information it may be more difficult to focus and think clearly. This has led to the development of many supplements and mental boosters, which have become popular support aids to those needing a little help with this issue. In this review, we will be taking a look at one of these products, True Focus. This dietary supplement promises to support your neurotransmitters, allowing you to maintain mental acuity.
Ingredients
As a brain booster, this product contains a host of ingredients that claim to have many associated uses. These elements include; Vitamin C, Vitamin B-6, Potassium, L-Tyrosine, L-Phenylalanine, Taurine, Grape Seed Extract, Potassium Ascorbate Powder, DMAE (Dimethylaminoethanol Bitartrate), Ginkgo Extract, CoQ10. It has been thought that compounds such as Vitamin C, L-Phenylalanine, and Taurine have properties that help neurotransmitters in the brain, which have been connected to attention spans and mental responses. Other ingredients in True Focus includes; Cellulose, Magnesium Stearate and Silica.
The product label further stipulates that this supplement does not contain any wheat, gluten, soy, milk, egg, fish, shellfish or tree nuts.
Dosage
The only information we were able to find on dosage, in this review for True Focus, was to take two capsules daily, between meals. This limited information does raise some concerns as it does not stipulate at what time the user should take this product. Especially when we considered that the product information stated that it was not safe for use by children or that there was a Phenylketonuria warning. A disorder that builds up phenylalanine levels in the body.
Price
This dietary supplement is available for purchase online, at $19.99 for a bottle containing 90 capsules. Unfortunately, we were unable to determine if there were any other pricing or discount bundles available to individuals wanting to buy this product directly from the manufacturer's website. We also found that free shipping only applied to purchases exceeding $75 and are less than 5lbs.
Guarantee & Feedback
When you purchase True Focus, there is a satisfaction guarantee and returns policy in place. However, this 60 day returns condition only applies to new and unused products.  Which means that you can't try the product before deciding on its effectiveness. This makes us question if this brain booster actually does what it claims to do. In addition, a restocking fee may also apply to some orders that were returned.
Our Conclusive Review About Now True Focus
To finish off our review of the brain booster Tue Focus, we discovered some aspects of the product that we liked and some that we did not like as much. We appreciated that this supplement was reasonably priced and that it was free of several common allergens, making it suitable for more dietary requirements. However, we were concerned about the lack of information regarding usage, as well as the returns policy. If a customer is unable to use the product before returning, it becomes impossible to identify if its claims of providing improved cognitive function are actually valid. Another downside to this product is that it is only available at one price, which does not provide any savings.
Bringing you top reviews and product analysis - Consumer Advisors.