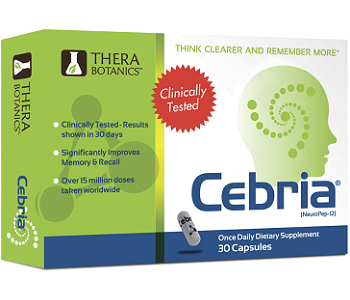 User Ratings (

0

Votes)

0
Ever walk into a room and completely forget what you were going to do? Have you noticed your short-term memory is waning? Short-term memory loss is common as you grow older, but you can slow down this process by taking a helpful brain supplement. Read our review of Thera Botanics Cebria to see how this brain supplement can benefit your memory and brain function, and how it compares to others on the market.
Ingredients
The main ingredients in this supplement consists of three different B vitamins. Vitamin B6 and B12 help neurons in your brain build more connections to increase your recall. Folic acid, also known as B9, is also one of the main ingredients. It helps with overall health and reduces your risk of anemia. There are 17 more nutrients, mostly amino acids, that help you feel relaxed, improve your cognitive function, enhance your ability to focus, and boosts your memory. Cebria claims to greatly increase your short-term memory, eliminating short-term memory loss. Some of these ingredients are connected to boosting your brain function, like L-theanine and green tea extract.
However, other supplements contain alternative ingredients that help provide you with energy while improving your memory. Some of these ingredients that Cebria lacks are guarana, vitamin B3, and St John's wort. Cebria has ingredients that make you feel more tired, like tryptophan, and also an ingredient that doesn't seem to relate to cognitive function at all: lactose. Especially for those that are lactose intolerant or vegetarian, the inclusion of lactose in a gelatin capsule makes this product unappealing.
Dosage
Thera Botanics suggest taking one capsule per day for the best effect. One capsule has a large amount of daily value of all the B vitamins: 10,000% of vitamin B12, 1,000% of B6, and 200% daily value of folic acid. Although this sounds high, when compared to other brain supplements, this dosage is actually lower than usual. Other supplements are recommended to be taken twice a day. There is also information lacking about taking the capsules, if they should be taken in the morning or evening, with a meal or without. We have found that brain-boosting supplements usually come with the instructions to take with a full glass of water.
Price
One box of 30 capsules costs $59.99, not including shipping. If you order through the website, there is a special deal to purchase it for just $49.90 including shipping. If you are unsure about buying a box, you can sign up through the website to receive two month's supply of the capsules. Then, after 30 days, you will be charged $39.95 per box plus shipping and processing. This offer also comes with a complimentary book about memory improvement named "The New Memory Advantage" and an omega supplement. You are then signed up for a renewable prescription to receive one box per month.
Guarantee & Feedback
There is a 30-day guarantee that comes with each box purchase. It states you get a full refund, but there are no details about the state of the box you are returning if it acceptable to return a completely empty box like some other companies. Although it is nice to have a guarantee, there are other companies that offer 90 days to return a used or empty product, and some even give a full year to return a box or bottle. When taking a new supplement, it takes a long time to notice results, and giving just 30 days to return a product sounds too short.
The feedback available on Thera Botanics site is extremely positive. They praise how effective Cebria is and it also has helped them gain more confidence in themselves. When looking up customer reviews not features on the site, there were negative reviews stating how there was speculation that the capsules are addictive as there are unpleasant symptoms like headaches when a customer forgot to take a pill. The high price was mentioned as a deterrent, as well. The thing that received the most complaints was the automatic subscription that left customers unhappy when checking their monthly credit card bills. Cancelling the subscription was reported to be difficult.
Our Conclusive Review About Thera Botanics Cebria
This brain-boosting supplement has key ingredients to help improve short-term memory and brain clarity. Cebria's helpful mix of vitamin B supplements is helpful for overall cognitive improvement. This supplement also comes with a special offer for a first purchase that includes one free box of capsules, an omega supplement, and a book about memory improvement. However, there were many things that came up that worried us about the usefulness of this product. There were important ingredients that were lacking that help boost the brain's function as well as your energy, like guarana and vitamin B3. The automatic subscription is more of a hassle than a benefit, as it surprises customers and makes them waste time talking to customer service. Overall, this product may work well, but its benefits may be outweighed by its disadvantages.
Bringing you top reviews and product analysis - Consumer Advisors.