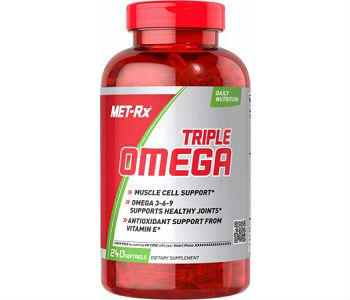 User Ratings (

0

Votes)

0
There are many products out there that are not quite like the Triple Omega supplement. This product is designed to help with brain health and promote cardiovascular function and health. It has all 3 fatty acids Omega-3, Omega-6, Omega-9) which gives it a more powerful effectiveness in supply.
Ingredients
The Triple Omega 3-6-9 has the following ingredients:-
Omega-3, Omega-6, Omega-9
Flax Oil
Fish Oil (anchovies, mackerel and sardines)
DHA (Docosahexanoic Acid)
EPA (Elcosapentanoic Acid)
Soy Lecithin
Mixed Natural Tocopherois
Annato Color
Vegetable Glycerin
Gelatin
Dosage
Triple Omega 3-6-9 should be taken three times a day after each meal so that the DHA and EPA is fully absorbed.
As always, make sure you consult your doctor before taking this product.
Side Effects
There are no side effects for this supplement. The only thing that people need to be aware of is that when you take too much of it, there is a likelihood that you may overdose and that's not good.
You also need to know if you are allergic to soy an fish because you might get a reaction from it too.
Again, make sure that you notify your doctor about this product and your intentions or plans for using it.
Price
This product is priced at fourteen dollars and thirty nine cents. This seems to be reasonably priced and research shows that it is one of the affordable ones on the market. To top it all off, not only does it have the Omega-3, but the Omega-6 and Omega-9. That means that you are benefiting from three nutritious fish oils  and just paying for the price of one. That lures consumers and makes them want to buy this product. It is a great marketing strategy.
Guarantee
These product does have a guarantee. It stated that if you buy the product, then 40 days from when you opened it, you can return for a full refund if does not do what they say it will do.
Conclusion Of Our MetRX Triple Omega 3-6-9 Review
This is a great product and benefits the body in a major way. It is very tempting to declare 3 fatty acids as a great compilation, but when you put focus on one thing, that thing tends to do better. Same concept here. Generalizing and creating products that are multi tasking in supplying supplements in the body might not be as effective.
The ingredient Annato is also another legitimate concern that a consumer should have. This is an artificial coloring agent that is not even close to be considered natural, since it has been processed.
The FDA is a company that ensures the quality of products and guarantees high level of standards in it's production and effectiveness. Triple Omega 3-6-9 does not have that behind it's name.
Bringing you top reviews and product analysis - Consumer Advisors.