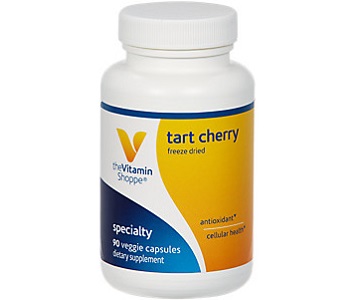 User Ratings (

0

Votes)

0
This Tart Cherry Extract review examines in more detail this dietary supplement by The Vitamin Shoppe. The manufacturer of this supplement claims that the product is able to maintain a healthy inflammation response, in providing antioxidants. This product may therefore be used to treat gout by controlling inflammation. Keep reading our in-depth review.
Ingredients
Three capsules provide cherrypure (freeze-dried cherry-skin concentrate) (1500 mg). Other ingredients: Vegetable cellulose, microcrystalline cellulose, magnesium stearate, silica. Cherrypure contains anthocyanins, which help to balance uric acid levels. In addition, this substance is a source of antioxidants, which enhance the body's own resistance to oxidant stress.
This product is free from dairy, fish, gluten, salt, soy, sugar, wheat, yeast, animal derivatives, artificial colors and added flavors.
More so, this formula contains 1500 mg of tart cherry which is the optimal amount to help reduce the pain linked to gout, and to lower uric-acid levels, preventing future attacks. However, this formula lacks other ingredients such as garlic, yucca, folic, milk thistle, dandelion, rutin, or turmeric, which are all ingredients found in clinical studies to be effective in treating gout.
Dosage
Dosage instructions, according to the manufacturer, are to take three (3) capsules daily, with meals. As mentioned, the total number of capsules daily do provide the optimal amount of tart cherry to be effective. However, the manufacturer does not indicate what time of the day these supplements should be taken, and if they can be taken together to provide optimal benefits for the end-user. In addition, those who are pregnant, nursing, or on prescription medication should consult a doctor before using this supplement.
Price
Tart Cherry Extract is available directly from the manufacturer, via its website. A bottle of 90 capsules costs $16.99 (excluding shipping fee, as shipping fees are only applicable on orders over $25.00). This is a discounted price as the original price was $19.99. No package deals are provided; bulk offers could be even more economical to the regular user. This product is available online, in store, or through a subscription service, however the latter is risky. It may be difficult to exit such a program, a monthly deduction being automatically taken from the credit card.
Guarantee & Feedback
The manufacturer offers a guarantee on these supplements. The buyer has 30 days in which to return the goods. Goods should be returned unopened with the receipt, for a full credit. Opened products returned with the receipt will receive store credit. Goods returned, opened or unopened, without the receipt, will receive store credit for the lowest value of the product on the day of the return.
Reviews are useful in gauging how the product has worked for others. However, there are no reviews on the company's own website. Despite our efforts we could not find any reviews on this product. This includes sites such as Amazon on which this product is also available for sale.
Our Conclusive Review About The Vitamin Shoppe Tart Cherry Extract
This product should be effective in treating gout since it contains the optimal quantities of tart-cherry extract. There is a 30-day guarantee on this product. However tart-cherry extract alone may not suffice in treating all aspects of gout. The guarantee, in addition to being complex, does not allow for the buyer to try the product without loss of payment. There is also the concern of no reviews on this supplement. As such, it might be better to select another product on the market than this one. One, that can offer more value to the end-user's health.
Bringing you top reviews and product analysis - Consumer Advisors.