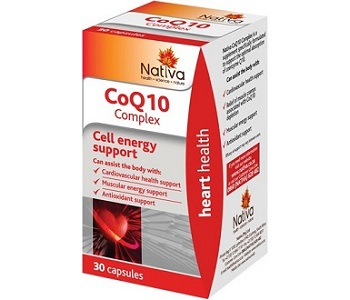 User Ratings (

0

Votes)

0
The following is a review for a dietary supplement from Nativa called CoQ10 Complex. This enzyme is naturally produced in the human body in the heart, kidney, and liver. According to the manufacturer, this product supports heart health while also improving the amount of energy your cells produce. Additionally, the producers of this product claim that continued use of this product will lower levels of unhealthy cholesterol in the blood whilst also improving muscle health, stamina, and energy. The manufacturers make a further claim that this dietary supplement may even provide relief from muscle cramps that are caused by a deficiency in this enzyme.
Ingredients
According to the packaging on this dietary supplement, it contains 150 mg Ubiquinone in each serving. It also contains vitamin E. This seems like a good list of ingredients that could boost your body to produce energy more efficiently. Unfortunately, our research seems to indicate that this concentration of the active ingredient is not enough for it to be an effective solution. Most supplements that have proven to be successful contain a significantly higher concentration of the active ingredients. We were also slightly concerned to note that the manufacturers do not include any information regarding additional ingredients that are included in this product.
Dosage
According to the manufacturer, adults should drink one capsule daily with your main meal of the day. Additionally, they recommended that you discontinue use if you notice any side effects from taking this supplement. We would suggest that individuals who are pregnant, nursing or already taking another medication should consult with their doctor before taking this supplement.
Price
This product is available on the manufacturer's website for $13.04. The manufacturer of this product does not provide any discounts or special offers. Unfortunately, we were unable to find any information related to shipping fees so you should probably count on paying extra to receive your purchase.
Guarantee & Feedback
Unfortunately, the manufacturers of this product do not offer any guarantees or return policies for this product. We were rather concerned to discover this as guarantee always reassures us that the manufacturer is confident in their product. A guarantee indicates that the company believes they are producing the best possible product. An additional concern we had when we were completing our research was that we were unable to find any customer reviews for this product. This means that you cannot find any honest opinions on the efficacy of this product.
Our Conclusive Review About Nativa CoQ10 Complex
In this review of CoQ10 Complex from Nativa, we concluded that this was a rather good product that restores the health of your heart and muscles. It contains a good blend of ingredients that include Coenzyme Q10 as well as Vitamin E. This product is also available at a reasonable price. However, you should consider a few things before you purchase this product. This product does not contain a high enough concentration of the active ingredient to make it effective. We were also alarmed by the lack of any guarantees and the absence of customer reviews on the manufacturer's website.
Bringing you top reviews and product analysis - Consumer Advisors.