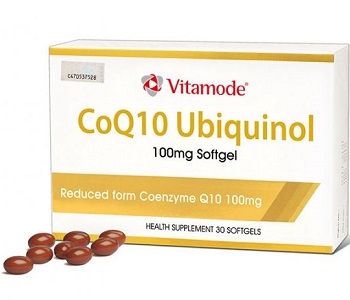 User Ratings (

0

Votes)

0
Read our review below about CoQ10 Ubiquinol. It is an essential nutrient for antioxidant protection and cellular energy production.
Ingredients
The only ingredient included in this formula is Coenzyme Q10 Ubiquinol. It provides sustainable energy and protects the body from free radicals as it has antioxidant properties.
We found that Bioperine is missing from this formula's ingredient list. It aids with the bioavailability of nutrients and it, therefore, will provide even more benefits for heart health. It will also help to produce energy for maintenance and cell growth and help to protect the body against cognitive diseases.
Dosage
Two capsules/200mg daily is recommended for the first three weeks. After that, 100mg can be used per day for maintenance.
We find that 100mg or even 200mg per serving is not enough. 250mg of Coenzyme Q10 should be included per serving for optimal benefits.
Possible Side Effects
This formula is generally well-tolerated and even suitable for vegetarians. It is, therefore, safe for long-term use. It is, however, not recommended for breastfeeding/pregnant women or children.
Price
30 softgels can be purchased online for $33.97.
Guarantee & Feedback
Seven days after you've made your purchase, the manufacturer will no longer offer you a refund or exchange. If you want to return the product within the first seven days, it must be in the same condition you received it, unused and in the original packaging.  They further also require a proof of purchase. This policy gives the consumer very little time to decide whether they'd like to return the product. The company has a lot of policies in place to protect themselves, leaving the consumer without the chance of trying a new product without the risk of losing money. There are other CoQ10 products on the market with 365-day money-back guarantees even for used products.
There are currently no reviews available on the manufacturer's website for this product.
Our Conclusive Review About Vitamode CoQ10 Ubiquinol
After reviewing CoQ10 Ubiquinol, we found that it protects the body from free radicals and provides sustainable energy as it has antioxidant properties. We found it quite impressive that there are no additional ingredients such as preservatives, colorants, additives or binders included in this formula. This fact makes it a much healthier product to consume.
We did find that the daily dosage of Coenzyme Q10 is too low at 100mg/200mg. It should be around 250mg for optimal benefits. We also found that a very important ingredient is missing, namely Bioperine – it aids with the absorption of nutrients – for improved results.
We lastly found that the manufacturer protects themselves against the consumer requesting a refund. They only offer a refund for seven days after the purchase has been made and it is only valid if the product is in the same condition you received it, in the original packaging and unused. This does not give the consumer a chance to see whether the product works for them or not. There are other Coenzyme formulas with up to 365-day money-back guarantee offers – even for empty containers.
Bringing you top reviews and product analysis - Consumer Advisors.