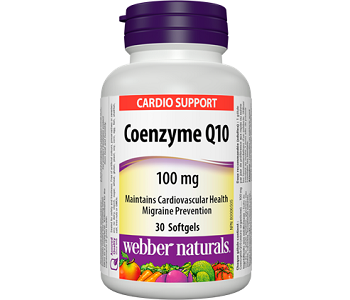 User Ratings (

0

Votes)

0
In this review of the Coenzyme Q10 formula manufactured by Webber Naturals, we will find out whether this product matches up to other high-quality CoQ10 supplements on the market and if the claims made by the manufacturer are accurate. This product has been formulated to support cardiovascular health, reduce the frequency of migraines, and assist in eliminating nausea and vomiting when taken as a prophylactic. The manufacturer also claims it is a good antioxidant for the maintenance of good health.
Ingredients
Coenzyme Q10 (bacteria or yeast)
Non-medical ingredients added to this supplement include Rice bran oil, softgel capsule (gelatin, glycerin, purified water, carob), and natural tocopherols
Dosage
The manufacturer recommends taking 30 to 60mg for daily use and between 100mg to 400mg to replenish depleted Coenzyme Q10 caused by statin drug treatment. Each capsule of this product contains between 30mg to 200mg of Coenzyme Q10 depending on which option you purchase. Studies have suggested that the recommended daily use dosage of this product is too low to see any positive results and the recommended highest dosage of 400mg per day is too high. Other similar products available on the market offer a more balanced approached by recommending a daily dosage of about 200 mg per day for both daily use and statin drug users.
Possible Side Effects
Use of this product at its lowest dosage up to about 200mg per day should result in no side effects, however, consuming 400 mg of CoQ10 per day could result in some side effects which include ashes, nausea, abdominal pain, dizziness, sensitivity to light, irritability, headaches, heartburn, and fatigue. Consumers should not take more than 350mg of CoQ10 per day with a typical dosage being about 200mg per day.
Price
The manufacturer does not have functionality for consumers to purchase this product directly from their website. This product can be purchased at third-party retailers for around $19.00 for a bottle containing 60 capsules. Some retailers offer discounts when buying 2 bottles containing 60 capsules each for $25.99. Price options vary across different retailers and different dosages.
Guarantee & Feedback
Due to this product not being available to purchase directly from their manufacturer's website, the returns policy is provided by the third-party website you buy it from. These policies vary from each retailer, however as many of the retailers stocking this product are reputable companies they should all offer a refunds policy which is favorable to the consumer. We are a bit concerned about the lack of reviews online which makes us believe this product is not very popular.
Our Conclusive Review About Webber Naturals Coenzyme Q10
This product was able to tick some of our boxes in this review such as pricing and the variety of dosage options available. The major downfall was the suggested maximum dosage of 400mg per day that the manufacturer recommends, studies have shown that this dosage is too high and could cause some unwanted side effects. Another concern was the lack of reviews on all the third-party retailer's sites, this may be due to the popular not being a very popular option for consumers looking for Coenzyme Q10 supplements.
Bringing you top reviews and product analysis - Consumer Advisors.