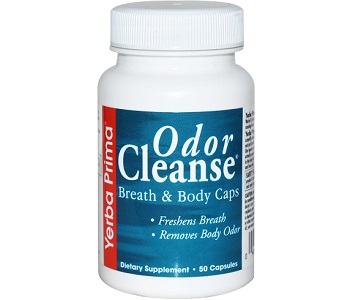 User Ratings (

0

Votes)

0
Although commonly believed to be caused by a lack of proper hygiene, bad breath and body odor usually signify a problem from within. It is believed that hot gases come up from your large intestine and manifest into bad breath. Your body also excretes toxins through your sweat which causes body odor but sweat on its own is not inherently odorous. Therefore, in order to successfully tackle these odors, you must tackle them from within. Most products are usually a temporary solution because they only combat odors externally like mouthwash, breath mints, and deodorants. This review is going to examine Yerba Prima Odor Cleanse. This Odor Cleanse tackles odor-causing toxins at the source itself. They claim to powerfully neutralize and suppress odor-causing substances in the body and if taken on a daily basis, you will see results like increased beneficial bacteria, a better immune system, kidney health and reduced intestinal gas.
Ingredients
Patented Mushroom Extract – 75 mg
Agaricus Bisporus
Other Ingredients: Cellulose, FOS, Vegetable Magnesium Stearate, Kosher Gelatin Capsule.
Dosage
Yerba Prima recommends taking one or two capsules as needed, with liquid and preferably after meals in conjunction with maintaining a good oral hygiene program. To reduce bad breath occurring from eating garlic, onions or meat they recommend taking 1 or 2 capsules with or immediately following the meal. For reducing body odor, they recommend taking one or two capsules daily for a minimum of two weeks. To reduce fecal odor, they recommend taking two capsules three times daily for a minimum of two weeks.
If you have difficulty swallowing you should not take these capsules. If you are pregnant, nursing, taking prescription medication or are under medical supervision you should speak with your doctor before consuming this product.
Possible Side Effects
Yerba Prima does not list any side effects on their website. Through our research, we were able to find that common side effects associated with taking Mushroom Extract are dryness of mouth, upset stomach and nosebleeds.
Price
You can buy one 50 capsule bottle on the manufacturer's website for $13.99. They do not offer any bulk purchasing packages or discounts.
Guarantee & Feedback
Yerba Prima does not offer any money-back guarantees. There are nearly no reviews about Odor Cleanse.
Our Conclusive Review About Yerba Prima Odor Cleanse 
This Odor Cleanse appears to be decent. It contains two active ingredients that have been shown to have properties that help cleanse the system of odor-causing toxins. It comes in easy to take capsules. However, it is concerning that Yerba Prima does not offer any sort of money back guarantees. This means that if you purchase this Odor Cleanse and experience adverse side effects or it simply does not work for you, you cannot get your money back and it suggests the manufacturer's lack of confidence in their product's effectiveness. There are nearly no consumer reviews on this product which suggests to us that this is not a popular or well-known odor relief product. Yerba Prima Odor Cleanse appears to be too risky to rely on to relieve bad breath and body odor.
Bringing you top reviews and product analysis - Consumer Advisors.