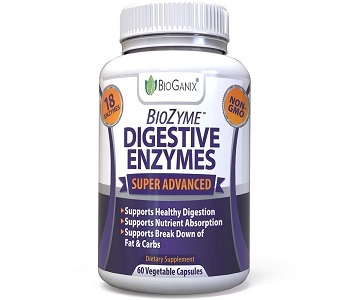 Quality of Ingredient

7.5

User Ratings (

0

Votes)

0
Read our review about Bioganix BioZyme Digestive Enzymes Supplement, which is designed to improve digestion. It works by reducing these symptoms: stomach bloating, belching, gas, heartburn, diarrhea, undigested food in the stools, intestinal cramps, abdominal pain, nausea, and fatigue that leads to poor digestion, constipation and other digestive issues.
The manufacturer claims that it may also help individuals that do not have a gallbladder.
Ingredients
These are some of the ingredients in this supplement: Protease 1, Protease, Aspergillopepsin, Amylase, Lipase, Cellulase, Glucoamylase, Invertase, Alpha-Galactosidase, Phytase, Lactase, and Bromelain.
All these enzymes listed above work together in providing your stomach with the help that it needs to function well. For instance, Bromelain causes the body to secrete a substance that prevents pain, inflammation and ulcers. Lactase helps digest lactose in whole milk and other dairy products.
Lipase is helpful when the pancreas is unable to release enough digestive enzymes into the stomach to digest food. Cellulase is responsible for decomposing the cellulose. Protease is responsible for digesting different types of proteins, and Amylase helps break down carbohydrates and starches into sugar.
Dosage
The manufacturer suggests that you take 1 capsule 1 to 2 times at the beginning of each meal as a dietary supplement, or as indicated by a healthcare provider. You should not take more than six capsules daily.
Possible Side Effects
We did not find any information about side effects relating to this supplement. However, it contains soy, which makes it unsuitable for individuals who are allergic to soy.
Moreover, some people may experience some side effects such as intestinal discomfort, nausea, cramping, and allergy reactions from the enzymes.
Price
You can purchase Bioganix BioZyme Digestive Enzymes Supplement through the manufacturer's website for $17.97 for 60 capsules. You get a 10% discount if you subscribe for the supplement to be delivered at your schedule. It is also available from online third-party retailers. The price is similar. However, some offer a discounted price.
Guarantee & Feedback
The manufacturer promises to offer you a full refund if you are not satisfied with the results of the supplement. However, you must ensure that you do this within 60 days of purchase, which is the period of their money-back guarantee. Consumer reviews are not shared on the manufacturer's website. However, you can find them on one of the third-party retailer's website. Some are good reviews but some of them are not.
Our Conclusive Review About Bioganix BioZyme Digestive Enzymes
Bioganix BioZyme Digestive Enzymes Supplement could be helpful to people who suffer from digestive issues. It contains natural enzymes that have been proven to work. The manufacturer trusts their product, and they consider that not everyone is similar. Therefore, some people may benefit, while some may not.
They offer you a 60-day money-back guarantee to ensure that you are satisfied. We read some consumer reviews, where some consumers indicated that they benefited from the supplement. However, take note of the side effects. This product is not suitable for those who are allergic to soy. The enzymes contained in it may cause more problems with the stomach, such as cramps and nausea.
Moreover, even though the enzymes in the product are known to be effective, there needs to be an anti-inflammatory and soothing ingredient such as Psyllium, Peppermint Oil, Fennel Oil, et cetera. Without one of these, you might experience some side effects from this supplement.
Bringing you top reviews and product analysis - Consumer Advisors.