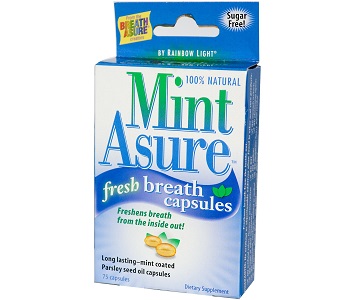 User Ratings (

0

Votes)

0
Bad breath is an isolating and embarrassing condition that can be especially frustrating if you have not succeeded in getting it under control. Brushing your teeth twice a day and chewing mint gum after eating sharp foods can be enough for some people but for others, it can be a struggle to find an effective solution. The problem with many treatments like mouthwash and mints is that they only treat the issue temporarily, without eliminating the odor-causing problems at the source. This review is going to take a closer look at Rainbow Light MintAsure Fresh Breath. This product is a bad breath eliminator that is taken in the form of a capsule and is designed to tackle odors from within. The manufacturer claims that their product will provide optimal breath with powerful, natural peppermint-coated capsules that will instantly freshen your breath. Upon swallowing, the internal capsule that contains Parsley oil will combat odor causing problems from within.
Formula
Parsley (seed) Oil – 16mg
Xylitol (from birch tree) – 126 mg
Other Ingredients: Sunflower oil, kosher gelatin, purified water, glycerin, natural peppermint flavor, acacia gum.
Parsley seed oil contains chlorophyll which has antioxidant and anti-inflammatory properties that help neutralize toxins and pollutants that are ingested daily. It can also help cleanse odor-causing toxins from the bloodstream.
Xylitol is a natural sweetener that increases the flow of saliva which can wash away bacteria and makes the environment less friendly to odor-causing bacteria.
Instructions
Rainbow Light recommends taking 2 MintAsure capsules after meals and to swallow them with water or with other fluids. They advise against chewing the capsule.
If you are under medical supervision, pregnant or nursing you should consult with your doctor before taking this product.
Cost
This product is available on the manufacturer's website for $12.79 for a 160 capsule bottle. There are no bulk purchasing packages or discounts offered.
Possible Side Effects
Rainbow Light does not list any possible side effects. It is believed that consuming an excess amount of parsley can cause anemia.
Guarantee & Feedback
The manufacturer asks that if you want a refund for your product to return it "as soon as possible." They do not stipulate what the terms and conditions are. Many consumers reported that these mints had little to no effect and some said that it even caused their breath odor to worsen. Users claimed that the outer sweetened coating is a nuisance because it makes the capsules harder to swallow and causes them to stick together in the packaging.
Our Conclusive Review About Rainbow Light MintAsure Fresh Breath
This product appears to be decent. It contains two active key ingredients that are designed to treat bad breath both externally and internally. These mints also come in easy to swallow capsules and are coated in mint for instant relief. However, the mint exterior does not appear to serve a purpose because the manufacturer strongly stipulates that you should not chew these capsules and consumers complained that the sticky, sweetened mint exterior actually makes the capsules harder to swallow and causes them to stick together in the package. Furthermore, the manufacturer does not offer a straightforward and clear guarantee. We strongly advise that if you choose to purchase this product, to first contact their customer service to get an up to date policy before completing your purchase.
Bringing you top reviews and product analysis - Consumer Advisors.