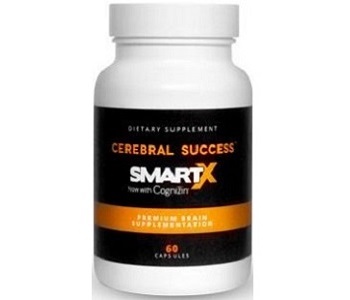 Quality of Ingredient

7.5

User Ratings (

0

Votes)

0
Concentration issues are normal occurrences that only last short amounts of time for most people. However, with many contributing factors such as emotional well-being and stress often leading to diminished levels of focus, many individuals turning to supplements for an added kick to their mental agility. In this review, we will be discussing Cerebral Success, a dietary supplement that claims to assist the user by increasing mental focus, improving memory and by supporting a balanced brain function.
Ingredients
According to the available information on this product, Cerebral Success contains the following list of ingredients; Huperzine A, Vinpocetine, Phosphatidylserine, Bacopin, Schisandrin A, L-Tyrosine, Cognizin, Glucuronolactone, DHA, L-theanine, Caffeine, L-glutamine and B Vitamins. In isolation, many of these compounds have been used to aid in memory function, increased focus, and energy as well as cognitive functions. Unfortunately, the information on these ingredients did not stipulate whether or not the most effective amounts were used to make this product and the daily value was not established- which raises the question of its potency.
Dosage
While reviewing Cerebral Success, we could establish that the recommended serving for this supplement was two capsules. However, the manufacturer's website did not offer any concrete recommended dosage and stipulated that the user could essentially decide what worked for them. This information did stipulate that no more than four every day or 16 per week – further explaining that this product should not be used on a daily basis.
Possible Side Effects
According to the information we found, the use of this product could result in some side effects. Though uncommon these included; headaches, a decreased appetite, jitters, nausea and even depression. It is also not safe to use during pregnancy or while breastfeeding. For these reasons, it is always advised to consult a doctor before starting use.
Price
Currently, you are able to buy Cerebral Success in three different packages. One bottle at $65, two bottles at $115 and three bottles for $150. Each bottle contains 60 capsules, which relates to a single month's dosage. The manufacturer does provide some savings on the two and three bottle packages, on which free shipping is also offered.
Guarantee & Feedback
The manufacturer does stipulate that it has a 30-day money back guarantee in the event that you are unhappy with the effectiveness of this product. Our research for this review of Cerebral Success did uncover that this returns policy only applied to first-time purchases/orders. This made us question the confidence behind this product or the effects of repeated use.
Our Conclusive Review About Cerebral Success SmartX
Concluding our product review of Cerebral Success, we were impressed by the ingredients that they used and that the manufacturer did provide savings and a money back guarantee. However, we were concerned with the limited information about the amounts of ingredients, as well as the 'hidden clause' in the returns policy. We have thus come to the belief that this concentration promoting dietary supplement may not be the best brain booster available on the market today.
Bringing you top reviews and product analysis - Consumer Advisors.