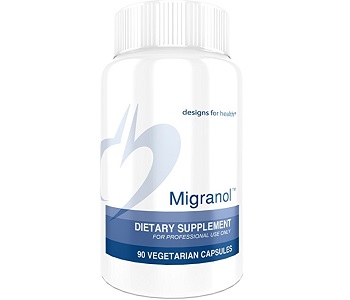 User Ratings (

0

Votes)

0
Looking for an all-natural cure for migraines? Instead of taking over-the-counter painkiller medications, try a natural capsule that can help reduce inflammation and ease the pain brought on by migraines. Continue reading below to read our review of Designs for Health Migranol to see how effective a natural supplement can be to help reduce and prevent migraines.
Ingredients
riboflavin (vitamin B2)
magnesium
feverfew extract
rosemary extract
curcumin
Most of the ingredients in this supplement are anti-inflammatories, including feverfew, curcumin, and rosemary. Curcumin also acts as an antioxidant which helps maintain healthy cell growth. Magnesium is helpful in making your muscles relax. Unlike over-the-counter painkillers, you can use this product over a long period of time without adverse effects.
We were concerned to see this product's lack of a few key ingredients that are needed to make this product effective: there is no Piperine, which is needed for full absorption of curcumin, nor is there butterbur, ginger, ginkgo biloba, or white willow. All of these are all-natural ingredients that are extremely effective against prolonged migraines. We also want to point out that other supplements that battle migraines have a much higher amount of riboflavin and magnesium than Migranol. There is just 150 mg of riboflavin and 180 mg of magnesium, whereas other products have 400 mg of riboflavin and 360 mg of magnesium.
Dosage
The correct dosage of Migranol is three capsules per day. The high dosage is probably due to the lower amounts of riboflavin and magnesium. Usually, supplements to help with migraines should be taken twice a day.
Price
One bottle for one-month supply costs $28.64 through the website or on Amazon. there are no discounts for bulk purchases, which is unfortunate as other supplements offer a price reduction if you buy three or six bottles at once.
Guarantee & Feedback
After thorough research, we were unable to find any company guarantee on damaged or ineffective products. It gives the customer peace of mind to make a purchase and know if it doesn't work he or she can just return it. Other supplements designed to appease migraines have 60-day, 90-day, and even 365-day guarantees. This is much more attractive, especially when you are trying a new supplement.
We looked through customer reviews to see how helpful this supplement is and we have seen mostly positive reviews of how helpful this supplement has been in preventing migraines and providing quick relief to a migraine that is in full swing.
Our Conclusive Review About Designs For Health Migranol
After looking at all aspects of the product from the ingredients to the price, we have seen that it is a helpful and effective supplement. People who have used this supplement seem to be extremely happy about it. However, its lack of discounts or guarantee still leaves us with unease. This product is more expensive than other migraine supplements and there is no way to get a refund if you are unsatisfied with the product. Perhaps looking at other products before purchasing this one would be the way to go.
Bringing you top reviews and product analysis - Consumer Advisors.