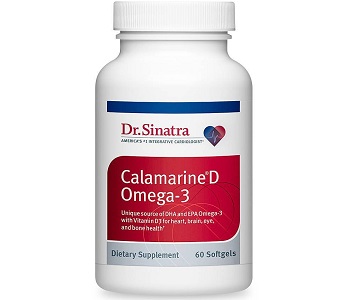 User Ratings (

0

Votes)

0
The manufacturer, Dr Sinatra, claims that the dietary supplement Calamarine D Omega-3, which is a rich source of Omega-3, as well as DHA. More so that the active form of vitamin D, D3, has been added to the formula that is good for your heart, eyes, brain, as well as overall health. This dietary supplement will be scrutinized in this review.
Ingredients
Within these capsules are the following ingredients, namely that of vitamin D (5000 IU), calamarine oil concentrate (2g) docosahexaenoic acid (DHA) (570 mg) and eicosapentaenoic acid (EPA) (330 mg). Other ingredients that are part of these capsules are gelatin, purified water, glycerin, olive oil, and mixed tocopherols.
Vitamin D assist to support bone health, and to support both heart and immune health. Furthermore, vitamin D is good for your brain health. Omega-3 is furthermore good for brain, eye, and heart health. The concern with this formula, conversely, is the amounts of docosahexaenoic acid (i.e. 570 mg) and eicosapentaenoic acid (i.e. 330 mg). These quantities are lower than half the necessary amount found to provide actual results. Calamarine is good for a good blood pressure level, blood circulation, and blood-vessel health. In addition, this ingredient aids the encouragement of eyes and brain health, and a healthy digestive tract. Still, the calamarine oil is sourced from squid, and the tablet is made using gelatin, which makes the dietary supplement unbefitting for vegans or vegetarians.
Dosage
The manufacturer recommends that one capsules should be taken twice per day with a meal.
Price
The dietary supplement, Calamarine D Omega-3 is retailed in bottles of 60 capsules, and is obtainable online for the purchase fee of $13.19 on a one-time purchase, not including the shipping fee. A discount is only offered for purchase orders on a subscription service. Purchasers can get a 20% discount and free shipping, on a bottle for the purchase price of $10.55. Nevertheless, the shopper will get a bottle each month, the cost routinely deducted from the buyer's credit card. Withdrawing such contacts can be difficult.
Guarantee & Feedback
The manufacturer provides a full satisfaction guarantee on this dietary supplement. If not 100% satisfied with this supplement, shoppers can return it within a 90-day period from purchase, for any reason.
The reviews on the company's website are mostly positive. Our research found that 80% of the reviews on Amazon are of high quality, with minimal deception; however, three reviews were deleted from Amazon.
Our Conclusive Review About Dr Sinatra Calamarine D Omega-3
The healthy benefits of Omega-3 are well recorded and studied – ranging from brain and heart health benefits, to a natural painkiller. Nonetheless, finding fishy free after-taste dietary supplement is not always easy. This supplement product states that it has no such fishy aftertaste. This product is backed by a 90-day money-back guarantee policy. You may use it; if you loathe this dietary supplement you may return it for a reimbursement.
The problem with this dietary supplement in comparison to similar products on the market is that it does not offer a discount. If you purchase this product on subscription, you will be bonded to a contract, and it may be challenging to terminate supplementary purchasing, even when this is your request. Despite the fact, this supplement product has the active form of vitamin D, namely vitamin D3, saving taking an additional dietary supplement, the amounts of the docosahexaenoic acid and eicosapentaenoic acid are nearly half of the normal amounts needed for optimal results. Lastly, our research established that reviews on Amazon were few (only 8), with 25% of these reviews of low quality and untrustworthy. Reviews are a good measure of how others respond to a supplement (the benefits and side effects).
Bringing you top reviews and product analysis - Consumer Advisors.