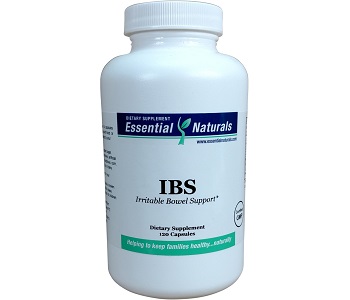 User Ratings (

0

Votes)

0
Up to 20% of adult Americans suffer from IBS, a group of symptoms affecting the large intestine and its functioning and especially the bowel. Symptoms are most likely to be abdominal pain, bloating, gas, infrequent stools, loose stools or constipation. The symptoms should occur every few weeks as IBS cannot be deducted from single incidents. IBS symptoms occur as a result of the GI tract being inflamed because not enough enzymes are present to break down food properly, a lack of pre- or pro-biotics to reset the flora balance in the gut, consumption of fiber-poor foods and foods lacking in nutrients, and several other factors. Often, without a process of eliminating what your issue is, it is hard to get to the root of what's causing your ailment. Start with isolating and eliminating your trigger foods though and then by adding supplementation to your diet.
Today's formula belongs to a practising naturopath, Dr. Michael Gazsi. He says it is designed to support a healthy intestinal lining (in other words, to soothe inflammation) and to restore normal bowel function.
Ingredients
L-Glutamine
N-Acetyl D-Glucosamine
Calendula Flower
Marshmallow Root Powder
Slippery Elm Powder
Ginger Root Powder
Glutamine, an amino acid, helps repair your GI tract and so does N-Acetyl D-Glucosamine. It is important to you if your major symptom is diarrhea. Ginger, marshmallow root, licorice and slippery elm are herbs which all help to reduce inflammation along your intestinal tract. Calendula also lessens inflammation and irritation. Soothing the tract will lessen your pain and bloating, and improve its working.
Dosage
Take 2 capsules 2 times a day.
Possible Side Effects
The tablets contain shellfish so if you are allergic, do not take them.
Price
You can buy a bottle of 120 capsules for $34.00 online from Essential Naturals. This is a one-month supply.
Guarantee & Feedback
Use the products at least 30 days and if you are not completely satisfied with how they are working, you can send them back for a 100% money back guarantee. You do however have up to 60 days to return the product. You may only return products to the value of $100. Many IBS products offer only a damaged or incorrect order product guarantee so it is a good sign that Essential Naturals is able to back their product to this extent. The reviews are positive, however they have been given a 'not recommended as reliable' rating by at least one review aggregator that enlists technology to spot and weed out what may be fake or planted reviews. We could not find other independent consumer reviews.
Our Conclusive Review About Essential Naturals IBS
There is some comfort to be taken from the fact that Dr. Michael Gazsi is a practising naturopath whose patients use Essential Naturals. He updates the formulas as he receives feedback, as he has done for 20 years. There is a high emphasis on quality. Doses are based on the latest scientific research, good quality ingredients are sourced, and the final products are tested several times for potency and purity. The formula's main working seems to be that it will help the inflammation of the intestinal lining subside. With this, you should experienced decreased pain and discomfort. The amino acids aid the proper break down of food and repair the gut.
To go the full distance as a remedy though, it is lacking enzymes and, most importantly, probiotics. If the flora gut balance is incorrect it throws out the working of the entire system. The guarantee means you can try the product risk-free. But it is almost a certainty your best results will come when you throw in a probiotic providing 50-100 billion units daily. If this does not suit you, change to a product that includes it as part of the formula.
Bringing you top reviews and product analysis - Consumer Advisors.