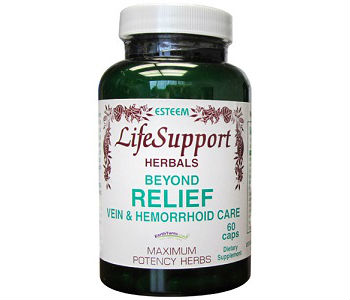 User Ratings (

0

Votes)

0
Do you know how to treat varicose veins? Varicose veins, or spider veins, occur when the walls of your veins become weaker, due to obesity, age, or hereditary factors. When this happens, the blood that flows through these pushes harder on the walls, which makes them push outward. They become more prominent on your legs, and might even feel uncomfortable. Many people who suffer from varicose veins think that their legs look ugly, and if they're left long enough, they can even require surgery to fix. For these reasons, there are a lot of products on the market that claim to fix varicose veins. It can be difficult to tell which are the good products and which are the bad ones, so let's take a closer look at Esteem Life Support Herbals Beyond Relief to see if it lives up to expectations.
Ingredients
Beyond Relief by Esteem Life Support Herbals uses these ingredients:
Gingko Biloba extract
Horse Chestnut extract
Silymarin extract
Butcher's Broom root
Salivia
Acerola Powder extract
Ginger root
Bilberry leaf
Hawthorn berry
Cayenne
These ingredients help to do things such as strengthening the veins, improving the circulation, or contributing to cell health.
Dosage
The manufacturers of Beyond Relief recommend a dosage of one capsule twice a day. Of course, if you're sensitive to any of the ingredients or your doctor tells you otherwise, you may need to take less.
Possible Side Effects
Esteem Life Support Herbals have not listed any side effects for Beyond Relief. As always, though, if you do notice any negative changes during or after taking this product, stop use and call a doctor.
Price
One 60-capsule bottle of Beyond Relief retails for $18.50. This works out to be one month's worth of capsules, which makes this one of the less expensive supplements for varicose vein health.
Guarantee
Esteem Life Support Herbals do not seem to offer any kind of guarantee or return policy on their product. If you purchase this product from some other vendor they might offer their own refund or return policy, but the manufacturers of this supplement do not have a guarantee on this product.
Conclusion Of Our Esteem Life Support Herbals Beyond Relief Review
Beyond Relief by Esteem Life Support Herbals seems like a good product. The ingredients are similar to those found in several other supplements, and the price is definitely a lot lower than similar products, so if you're looking for a cheap product to help fight varicose veins, this might be what you're looking for. However, the lack of a guarantee from Esteem Life Support Herbals, the manufacturers of Beyond Relief, might be too big of a risk for some people to take. If you want a similar product but prefer the safety of having a guarantee, you could try something else.
Bringing you top reviews and product analysis - Consumer Advisors.