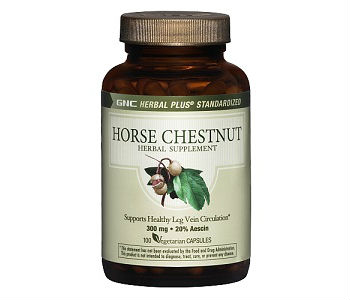 User Ratings (

0

Votes)

0
GNC Herbal Plus Standardized Horse Chestnut is a capsule used to treat the symptoms of varicose veins. Varicose veins, also called spider veins, happen when the walls of the veins in the legs get weaker, causing the veins to expand and twist. Varicose veins can be ugly and uncomfortable, and so there are a lot of products on the market that can help treat them. One of these products is Standardized Horse Chestnut by GNC Herbal Plus, which is designed to improve circulation (and thus help veins look less gnarled and bulging). Let's take a closer look at this supplement to see if it's a good buy.
Ingredients
The main ingredient in Standardized Horse Chestnut is the extract of the seed from the horse chestnut tree. This is a common ingredient in varicose vein supplements, as it helps improve general circulation. The benefit of GNC Herbal Plus' product is that it is standardized, which means that each capsule is guaranteed to have the same amount of medicinal ingredients. Obviously, if you're taking a medicine regularly, you want it to have regular effects, so Standardized Horse Chestnut is good in this respect.
Other ingredients in Standardized Horse Chestnut include dicalcium phosphate (to make sure it stays in pill form) and vegetable cellulose (for the capsules).This pill does not contain any animal products, making it safe for vegetarians.
Dosage
GNC recommends one to four capsules daily, although if your doctor recommends otherwise it's best to follow their instructions.
Possible Side Effects
Although untreated horse chestnut does contain a poisonous chemical known as esculin, processed horse chestnut is generally safe to take. However, some people may experience nausea and stomach upset on horse chestnut, as well as itching.
Price
Strangely, the manufacturer's website does not list an official price and it's hard to find a standard listing price for this product. You can find this through other retailers at anywhere between $15.00 and $18.00 for 100 capsules. (Some retailers do offer a 5% discount for GNC members.) At 100 capsules, this bottle contains 25 days worth of capsules at the maximum recommended four capsules a day,
Guarantee
GNC offers a full 30-day guarantee for a refund. This guarantee is inclusive of open products, so if you try it and don't like it, you have a month to send it in for your money back (less any shipping and handling charges.)
Conclusion Of Our GNC Herbal Plus Standardized Horse Chestnut Review
GNC Herbal Plus Standardized Horse Chestnut seems to be a very good product. Customer reviews for this supplement are generally positive, although some people do note that if you stop taking the product, varicose veins can come back. If you want to try GNC Herbal Plus Standardized Horse Chestnut, you may be satisfied, although we do recommend other products.
Bringing you top reviews and product analysis - Consumer Advisors.