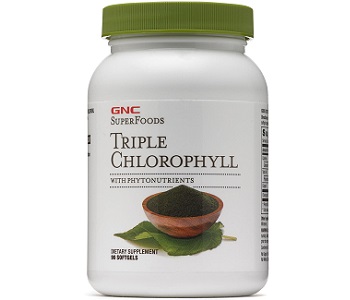 User Ratings (

0

Votes)

0
Bad breath and body odor are conditions that are commonly attributed to keeping poor hygiene. While odors can be made worse by keeping bad hygiene, they are generally caused by issues from within the digestive system. It can signify that there are toxins in your bloodstream and digestive tract. For this reason, many odor relief products like deodorants, mouthwash, and chewing gum only act as a temporary solution for bad breath and body odor. This review is going to take a closer look at GNC Superfoods Triple Chlorophyll. Chlorophyll is believed to offer a myriad of health benefits, among them, it is believed to act as an internal deodorant because of its ability to detoxify and cleanse your body, clean your intestines and get rid of bad odors. This product comes in easy to swallow softgel capsules.
Ingredients
Copper – 2 mg
Chlorophyll Complex – 60 mg
Inactive Ingredients: Soybean Oil, Gelatin, Glycerin, Titanium Dioxide.
Chlorophyll is the pigment in green plants that help transfer light into energy. It is a good source of Vitamins A, C, E and K. It is believed to have deodorizing properties because it detoxifies and cleanses your system from toxins that are the most common causes of persistent body odor and bad breath.
Dosage
Superfoods recommends taking one softgel capsule daily. They stress that you should not exceed more than one capsule daily.
If you are pregnant, nursing or under medical supervision, you should check with your doctor before taking this supplement.
Possible Side Effects
The manufacturer does not list any possible side effects. Through our research, we found that common side effects associated with taking high amounts of chlorophyll include upset stomach, nausea, and vomiting.
Price
This supplement is available to purchase on the manufacturer's website for $11.99 per 90 capsule bottle. If you subscribe to automatically reorder you can receive a 10% discount.
Guarantee & Feedback
GNC offers a 30-day money-back guarantee on both unopened and opened products. There are no consumer reviews on this product available on any forum.
Our Conclusive Review About GNC Superfoods Triple Chlorophyll
This Chlorophyll supplement appears to be decent. It contains an adequate dosage of Chlorophyll in each capsule and comes in easy to swallow softgel capsules. However, the information available on this product is extremely limited. Aside from the supplement facts on the label, the manufacturer does not offer any additional information about what this supplement is designed to do, what health benefits it contains or how it works. It is believed that you must take a Chlorophyll supplement over the course of extended time in order to see results but GNC Superfoods offers a limited money-back guarantee. This means that by the time your guarantee is up, it may not have been sufficient time to make a real determination about whether or not this product really works. Taking all of these factors into consideration this product appears to be too risky to rely on for relief from bad breath, body and foot odors.
Bringing you top reviews and product analysis - Consumer Advisors.