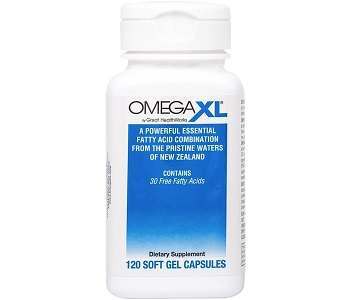 User Ratings (

0

Votes)

0
This is our review of the Omega XL supplement from Great Health Works that appears to be designed specifically to manage joint pain. Omega XL is a natural supplement formulated for restoring joint health. Omega XL comprises a patented blend of 30 omega-3 fatty acids that relieve inflammation, swelling, pain, and discomfort in the joints.
Joint pain is associated with aging and other ailments that come with advanced age. Omega XL claims to restore joint health so that you can regain perfect joint mobility.
According to manufacturer claims, Omega XL is 100% safe because it only contains fatty acids sourced from natural sources.
Ingredients
Omega XL contains omega-3 fatty acids derived from the new Zealand green-lipped mussel. The manufacturer states that this product contains 30 fatty acids including DHA and EPA. We could not find an actual image of the product's label to verify this and also find out the quantities of the ingredients. It is also stated the product contains natural monounsaturated olive oil and vitamin E.
Dosage
The recommended dosage for Omega XL is two capsules daily. If you have a sensitive stomach, take the capsules with meals. Otherwise, you can take without meals.
Possible Side Effects
We did not find any reported side effects of Omega XL on the main product website. However, when we browsed other sources, we found information suggesting that Omega XL may cause stomach discomfort, nausea, and vomiting.
As with all dietary supplements, it is important to check with your doctor before you initiate supplementation. There are no reported studies that have investigated the effects of taking Omega XL during pregnancy. However, avoid taking the supplement if you're pregnant or when breast feeding. Also, children below 18 should not be given Omega XL. No drug interactions are known but it's important to consult with your doctor if you're planning to start taking Omega XL supplementation whilst taking other medications.
Price
The listed price for Omega XL is $49.95 for two bottles. This excludes shipping and handling fees so factor in those charges when ordering. This is an introductory offer and you will then be automatically signed up to an auto-shipping program. This is detailed in the small print so it is important to take note of this. Each month you will then be billed $60.90 plus shipping.
Guarantee & Feedback
Great Health Works offers a 90-day money back guarantee. This guarantee only applies to your first purchase and you must return the unused product.
While it is not a very convincing guarantee, we were pleased that it allows new buyers to use the product risk-free for 3 months.
We read through 18 user reviews of the product on a different page that appears to be run by the manufacturer. While almost all the reviews were positive, there is no way to verify the claims even though there's a "verified customer" label on every review implying that they were written by customers who have purchased and used the product.
Our Conclusive Review About Great HealthWorks Omega XL
Omega XL makes a bold claim of helping to eliminate joint pain. It also claims that it contains more than 30 omega-3 fatty acids, all sourced naturally. We were pleased with the 90-day money back guarantee, however, it is unfortunate this only applies to the first order. It is also unfortunate that you have to buy this product as part of an auto-shipping program and the product works out expensive monthly.
Overall, we have some reservations about this product as many of its claims are unverifiable. Also, the neutrality of the user feedback cannot be ascertained since the feedback system is run and managed by the manufacturer.  Therefore, we do not give this product our full recommendation.
Bringing you top reviews and product analysis - Consumer Advisors.