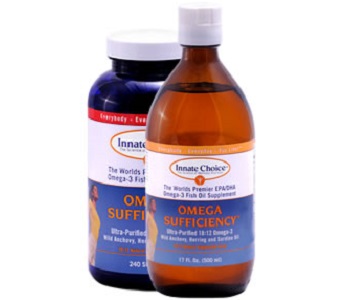 User Ratings (

0

Votes)

0
The following is a review of the dietary supplement Omega Sufficiency. More so, this review scrutinizes the claims by the maker of this health product that this health supplement is the greatest, containing the maximum amount of key elements of Omega-3 the body needs to stay healthy. Amongst the benefits stated by the company, are that Omega-3 can aid to avert ailments for example obesity, arthritis, cancer, heart disease stroke, depression, diabetes, Alzheimer's disease, high blood pressure, eczema, as well as learning and cognitive development problems.
Ingredients
According to the manufacturer, one (1) teaspoon (5 ml) contain the ingredients: Omega-3 fatty acids (1400 – 1700 mg), eicosapentaenoic acid EPA (740 – 825 mg), docosahexaenoic acid DHA (460 -550 mg), and other Omega-3 fatty acids (200 – 325 mg). The levels of docosahexaenoic acid and eicosapentaenoic acid appear adequate, while our research found other merchants offering levels of 800 mg EPA and 600 mg DHA. These are elements known to provide different health benefits, stretching from thinning the blood to defending the heart, and averting a stroke and assisting with brain-function development.
Dosage
The recommendation from the manufacturer is to take half a teaspoon of the liquid, or two (2) capsules be taken per 40 pounds of body weight, children included. If the liquid formula is taken, the bottle should be shaken well in advance of each use. After opening, the bottle should be kept in the refrigerator. The capsules do not need to be stowed in the refrigerator; yet, the capsules should be kept out of direct sunlight.
Price
This dietary supplement is accessible online straight from the manufacturer's website. This health product is vended in three different varieties. 1) A lemon-flavored 500 ml bottle providing 100 serving per bottle – to buy for $60.00. 2) With the same lemon flavor, however in capsule form. The capsule choice offers 240 capsules, which is 60 servings per bottle, with a purchase price of$55.00. 3) The strawberry-and-lime flavored capsules: 240 capsules providing 60 servings per bottle at a purchase price of $55.00. No discounts are offered on any of the aforementioned choices. If you buy two or more bottles, you can get 10% off every single additional item.
Guarantee & Feedback
The maker of this dietary supplement does offer a money-back guarantee on these products. The terms of this guarantee are that the undesirable good could be returned within 30 days in an unopened condition. The company takes no liability for the shipping fee (if not from America extra duties and taxes may be added); and will subtract $15 per bottle and $20 per case as the restocking fee on all returned items. Vitally, the company should approve all returns before the return is implemented.
Our research found that 90% of the reviews on the third party site Amazon alone were of high quality. Although there were only 48 reviews on 13 May 2018, these reviews has minimal deception issues.
Our Conclusive Review About Innate Choice Omega Sufficiency
Omega Sufficiency offers some positive points, but there are also some concerns. At the outset, there is a money-back guarantee on these dietary supplement, and there is a selection of either liquid or capsule format. Problematic is that the guarantee policy does not permit a sample of this supplement in advance of returning it, should it not deliver. The costs sustained in returning the product may mean that you obtain only a small bit of your money back. More so, no discount offered on these supplement. The 10% discount applies only to if a consumer buys two or more products. With that, it might be better to just opt for a better quality product, one which does not need to be combined with others to be effective.
Bringing you top reviews and product analysis - Consumer Advisors.