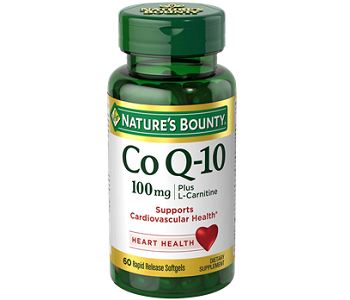 User Ratings (

0

Votes)

0
This formula of CoQ10 by Natures Bounty claims to assist with cardiovascular and nervous system health. CoQ10 is often used to replenish Coenzyme Q10 in the body that has been depleted due to statin medications. The manufacturer claims that it has been developed using natural clinically studied ingredients. In this review of Nature's Bounty CoQ10, we will determine whether the claims made by the manufacturer are legitimate and if this formula of the products matches up to other high-quality CoQ10 supplements available.
Ingredients
Other ingredients found in this product include rice bran oil, gelatin, vegetable glycerin, soy lecithin and, titanium dioxide color. As expected this formula contains Coenzyme Q10, however, there are several filler ingredients that could limit the potency and absorption of the product in the body. This formula also contains ingredients that may render it unsuitable for people suffering from allergies or vegetarians as the formula contains soy and gelatin.
Dosage
The manufacturer recommends that adults take 1 capsule daily with meals. Each capsule contains 400 mg of Coenzyme Q10 which is significantly higher than most other similar products on the market. Most studies have suggested that you should not take more than about 250 mg of CoQ10 per day, this formula being significantly higher tends to cause unwanted side effects.
Possible Side Effects
As mentioned, the high dose of 400 mg per capsule is too high compared to what other products provide and what many studies have shown to be a suitable daily intake. It is recommended that if you take a Coenzyme Q10 supplement, you should not exceed approximately 250mg per day, this formula contains an additional 150mg per capsule which can cause side effects such as rashes, nausea, abdominal pain, dizziness, sensitivity to light, irritability, headaches, heartburn, and fatigue. It is always advisable to consult a doctor before taking this supplement if you are pregnant or suffer from special conditions. Children should not use this product.
Price
Finding consistent pricing is very difficult for this product as you are unable to purchase it from the manufacturer's website. Instead, they link to 3rd party online retailers which all offer different pricing and pricing packages ranging from $35.10 to $47.99 per 39 capsules. Some of the links to the 3rd party retailer websites do not work.
Guarantee & Feedback
After in-depth searches, we could not find much information about the guarantee or returns policy as this product is sold through 3rd party retailers. You would have to inquire about the returns policy from each individual retailer to see what their specific returns policy is. There were also barely any reviews on the product on the manufacturer's website or on the 3rd party retailers site, this raised suspicion as we are unable to find out if any customers are actually purchasing this product.
Our Conclusive Review About Nature's Bounty CoQ10 Review
After conducting this review, we could not find many positive aspects to mention. The product comes in at a higher price than most other CoQ10 supplements on the market and contains a much higher dose which could cause negative side effects. The lack of reviews and guarantee policy raises suspicion about the legitimacy of the product.
Bringing you top reviews and product analysis - Consumer Advisors.