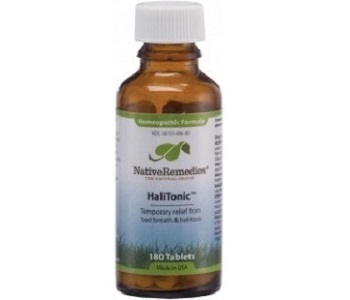 User Ratings (

0

Votes)

0
In this review, we examine Native Remedies Halitonic, which is a homeopathic tonic not only developed for the temporary relief of halitosis (commonly known as bad breath), but also for the promotion of good oral health. The manufacturer claims that this product's ingredients are preservative and artificial flavor free and that they work together to support the balance of enzymes and self-cleansing processes inside the mouth, as well as the balance of the digestive system.
Ingredients
Kali phos 6C HPUS
Silicea 6C HPUS
Carduus mar 3X HPUS
Nat sulph 6C HPUS
Kali Phos stands for Kalium Phosphoricum which is a tissue salt that is helpful for the prevention of bleeding gums. Silicea is an essential mineral which is a homeopathic remedy for the treatment of boils on the gums as well as abscesses at the root of teeth. Carduus mar is abbreviated from Carduus Marianus, which is Saint Mary's Milk Thistle and is known to be useful for optimum liver health. Nat Sulph is Natrum Sulphuricum, which is used for the treatment of blisters on the palate of the mouth.
All the above-mentioned ingredients are accompanied by mostly 6C and one ingredient 3X which is the potency of the remedy of the medicine. They also end with the acronym HPUS, which simply stands for Homeopathic Pharmacopoeia of the United States.
We are worried that this formula lacks two very powerful ingredients such as the probiotic Lactobacillus Acidophilus, which fights off any bad bacteria which starts forming in the digestive system, and Chlorophyllin-copper complex which works to eliminate the odors and not just mask them.
Dosage
It is recommended that 2 tablets are sucked into the mouth 2-4 times a day, either 10 minutes after eating food or half an hour after brushing teeth. Should the tablets be taken by a baby, crush the tablets and then sprinkle them onto the baby's tongue. The manufacturer states that this product should be safe for individuals of all ages, as well as pregnant and nursing women.
Possible Side Effects
Kali Phos produces nausea as a common side effect, Carduus mar has been found to decrease appetite and cause headaches.
Price
This product is sold at  $39.95 for 180 tablets is sold online directly through the manufacturer's website
Guarantee & Feedback
The manufacturer offers a year-long money-back guarantee, and also allows returns on the condition that the product is valued at $200 or less. The product may be returned unopened or opened along with the customer's name and invoice/order number. Since this product is sold for only $39.95, it does not qualify for a discount.
We have stumbled upon some positive reviews, but we also found customer reviews which complain that the tablets have an unpleasant taste.
Our Conclusive Review About Native Remedies Halitonic
In this review of Native Remedies Halitonic, we liked that this product is formulated without gluten and that it has some positive customer reviews. We are, however, concerned as to the fact that this product may influence nausea and headaches as a result of the ingredients used, and those very powerful ingredients (Lactobacillus Acidophilus and Chlorophyllin-copper complex) have been excluded from this homeopathic blend. The lack of guarantee is the final straw which encourages us to avoid suggesting this pro
Bringing you top reviews and product analysis - Consumer Advisors.